General Hospital Spoilers: Explosive Promo — Confusion, Confrontation, Convincement, Conviction Of Conscience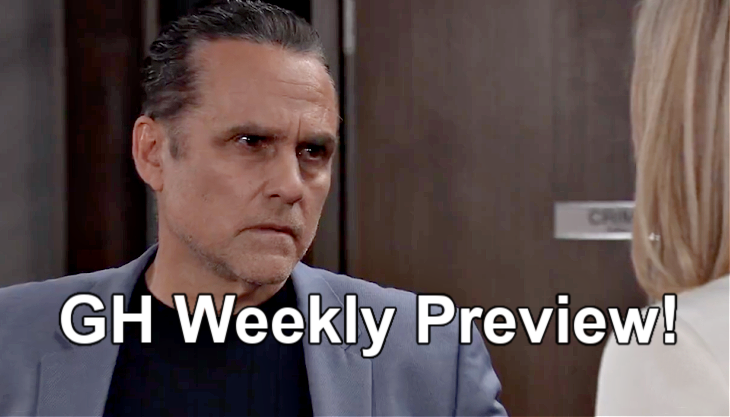 General Hospital spoilers for the week of Monday, May 22-Friday, May 26 tease confusion, confrontation, convincement and conviction.
Carly Spencer's (Laura Wright) confused how to beat the SEC's accusations, Ava Jerome (Maura West) confronts Nina Reeves, (Cynthia Watros) Olivia Quartermaine's (Lisa LoCicero) convinced, and Nina's conscience convicts her.
General Hospital Spoilers: Confusion
Drew Cain (Cameron Mathison) and Carly talk over the confused situation they are in with an anonymous whistleblower having turned them into the SEC for insider trading. Carly asks Drew how do they beat this – he tells her they go after the person who ratted them out.
The only problem is, how do they prove the only suspect they have, Ned Quartermaine (Wally Kurth) was the whistleblower when it's kept anonymous?
Poor Ned is the scapegoat because of a poor choice of wording and idle threats he made after a tense conversation with Carly and Drew several months ago. But right now, he's the only lead they have, even if he continues to plead his innocence.
GH Spoilers: Confrontation
Meanwhile, Ava knows exactly who the whistleblower is and even though she initially was in favor of it, now she's confronting Nina.
Nina didn't think things through regarding timing of these accusations, she made the call only wanting to get revenge on Carly, and Drew with her since Drew is important to Carly.
Nina could have caused Drew to be detained from his rescue mission and Liesl Obrecht (Kathleen Gati) may have been killed along with eighty percent of the world's population.
But there are other consequences-Ava warns Nina if Sonny Corinthos (Maurice Benard) finds out Nina called the SEC, it's over for Nina and Sonny.
General Hospital Spoilers: Convincement
At the Metro Court, Olivia remains convinced that Ned is the whistleblower, asking if he didn't do it, who did-likely talking to Carly.
A scene of the hapless Ned is shown, and no matter how much he denies calling them, his words of months ago seem to be convicting him as the culprit. He can't get anyone to believe him because when you get right down to it, it's just something that he might have done.
Ned and Drew were in conflict during that failed merger attempt because Drew and Michael Corinthos (Chad Duell) wouldn't let him pull all the strings in the new, merged company.
Ned would take nothing less than CEO in the new company and threw in with Valentin Cassadine (James Patrick Stuart) who would lose his ELQ position as well.
GH Spoilers: Conviction Of Conscience
In the meantime, Nina is suffering some conviction of conscience, Ava's warning haunting her. She talks to Sonny in her Crimson Magazine office and says she needs to tell him something.
But she'll be thrown by his words, and his proposal of marriage when he insists he doesn't care what she did. Nina will likely back out of her confession and say yes, but it still could come back to bite her!
Be sure to catch up on everything happening with GH right now. Come back here often for General Hospital spoilers, news, and updates.