General Hospital Spoilers Tuesday, May 30: CarSon Meets, Diane's Mission, Joss' Plan, Stella Squirms
General Hospital spoilers for Tuesday, May 30, 2023, reveals, Laura Collins (Genie Francis) puts on a good party. Sonny Corinthos (Maurice Benard) and Carly Spencer (Laura Wright) carve out time to talk. Olivia Quartermaine (Lisa LoCicero) receives information from Nina Reeves (Cynthia Watros).
Sam McCall (Kelly Monaco) and Scout Cain (Cosette Abinante) get a visit from Drew Cain (Cameron Mathison). Diane Miller (Carolyn Hennesy) is relentless. Curtis Ashford (Donnell Turner) cuts to the chase with Stella Henry (Vernee Watson). Portia Robinson (Brook Kerr) is thrilled. Josslyn 'Joss' Jacks (Eden McCoy) tells Trina Robinson (Tabyana Ali) she has something up her sleeve.
General Hospital Spoilers – Tuesday, May 30, 2023: Laura Collins Is The Hostess With The Mostest
Laura is going to play hostess on Tuesday, May 30th. Is she hosting a party, or brokering a peace treaty between Esme Prince (Avery Kristen Pohl) and Spencer Cassadine (Nicholas Chavez)?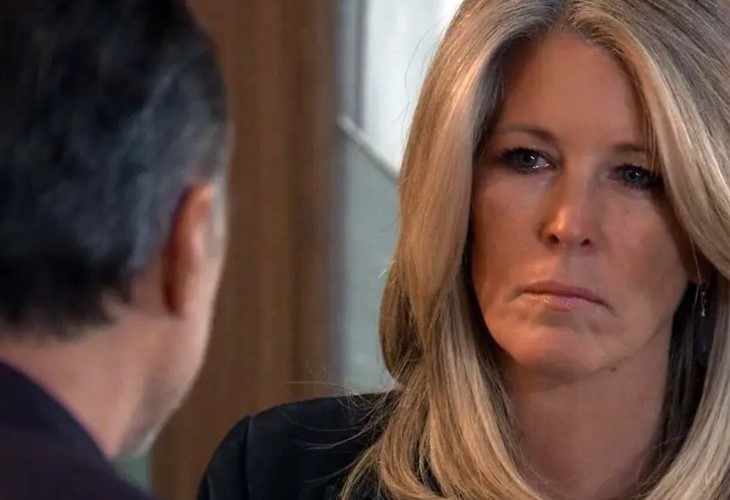 General Hospital Spoilers – Say Sonny Corinthos And Carly Spencer Speak Privately
Sonny isn't feeling good about his last conversation with his ex-wife, Carly. She's poised to take a pretty big fall and it may be all his fault. Can Sonny really let Carly go to prison when he knows the Justice Department is targeting him — through her?
GH Spoilers — Olivia Quartermaine Gets A Tip
Olivia is going to lap up information Nina feeds her, and it might be Carly's undoing if she doesn't use some discernment about what she's hearing. Will Olivia turn on Carly and feed Drew details that make him think Carly might actually roll over on him?
General Hospital Spoilers – Hint Drew Cain Makes Time For Family
Drew knows he needs to touch base with Sam and make time for his daughter. Sam is obviously going to have some questions about what is going on with the SEC — and him and Carly. Is it all best if Sam knows as little as possible now?
GH Spoilers — Diane Is On A Mission
Diane is going to sit down with Robert Scorpio (Tristan Rogers) and get right to business. What does she have on her mind this time, and can she pull it off?
General Hospital Spoilers Leak Curtis and Stella Clear the Air
Just as Curtis is moving back into his lakeside palace with Portia, Stella is going to knock at the door. Is Curtis harboring resentment toward his auntie for not telling him the truth? We're about to find out.
GH Spoilers — Portia Can't Hide Her Feelings
Portia is going to welcome her hubby home in a big way. Will it leave him feeling like she's overestimating his intentions from the start? Maybe, after all, half of his heart is still with Jordan Ashford (Tanisha Harper) and thinking about that kiss.
General Hospital Spoilers — May 30 — Joss Has a New Plan
When Trina and Joss make time for girl talk, it'll be clear that Joss has every intention of seeing things through with Dex Heller (Evan Hofer). She's not out of options just yet.
Which storyline are you most looking forward to following on GH on Tuesday, May 30th? Let us know, and keep checking back for more General Hospital news and spoilers.