Days Of Our Lives Alum Lisa Rinna's Deceased Mom Gave RHOBH Advice In A Dream
Days Of Our Lives alum Lisa Rinna feels ready to talk about two very different topics: Beauty and her deceased mother. And in a new interview, the 59-year-old dished on both topics. However, Rinna also shocked when she revealed a message via a dream from her dead mother about the Real Housewives Of Beverly Hills (RHOBH).
Find out what Rinna shared about beauty. And learn how she ended up in the front row at Paris Fashion Week. Get all the details below, including her dream about her deceased mom.
Days Of Our Lives – Lisa Rinna Reveals Her Secret To Beauty
Forget the Botox, face lifts, and expensive serums. For Days Of Our Lives alum Lisa Rinna, the key comes in happiness. And she suggested, "Find out what makes you happy, and do that." But Lisa also thinks that plastic surgery can't make a difference if someone feels miserable, she told the Standard.
"Listen, I don't care how much work you have done, if you're a f***ing miserable c**t… nothing's gonna help you, honey!" claimed Rinna. And when it comes to ensuring her own happiness, the Days Of Our Lives star takes pride in an invitation to sit in the front row at Paris Fashion Week. After luxury brand Kenzo offered the invitation, Lisa became a regular at fashion shows around the world.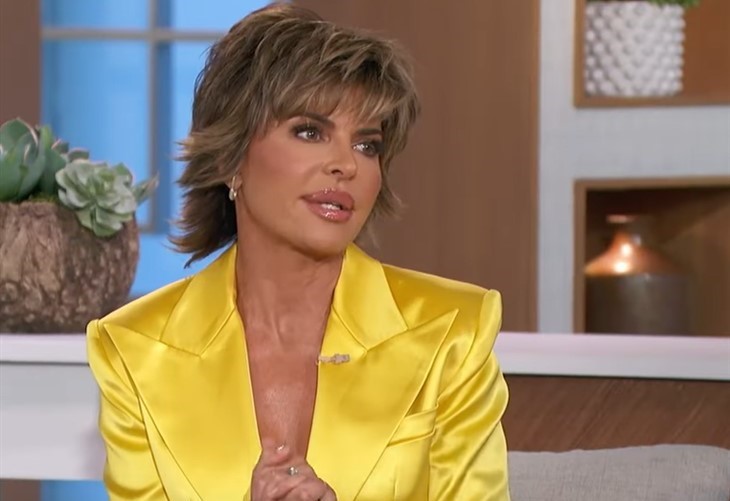 "I guess because it was covered so tremendously, people saw I was there and started asking me to come to different things," speculated the Days Of Our Lives alum. But beyond fashion, Lisa takes pride in her acting career. And she quipped, "I guess being the biggest bully in Hollywood has helped a great deal." Kathy Hilton made that accusation to Rinna at last year's RHOBH reunion.
Andy Cohen spills the tea on Lisa Rinna's exit from #RHOBH. pic.twitter.com/BwnqAJgRZw

— E! News (@enews) May 13, 2023
DOOL Spoilers – Lisa Rinna Shares Her Mother's Advice
However, while the Days Of Our Lives alum hasn't lost her sense of humor, she does admit that her decision to leave the Real Housewives Of Beverly Hills followed her heartbreak over her mother Lois' death. But she didn't find it easy to resign. And Rinna pointed out, "Who wants to leave a job? But I think we all knew it was time. Eight years of that kind of show… What more could I have done, besides generate more memes?"
But for the ultimate advice, Rinna shared that she valued the guidance from her mother. And the Days Of Our Lives alum claimed that her mother "came to me" in a dream. "It's so wild," added Lisa. "Because half the world will believe this, half the world will say: 'That's so weird.' I was sleeping."
And the Days Of Our Lives alum described her mother talking to her in her dream. "I heard her say to me: 'It's time for you to go.' I told a psychic," shared Rinna. "And she said, 'Oh yeah, she's come to me and told me that. She wants you to be happy and follow your dream. But she says it's time for you to go.'"
Tell us what you think. Do you believe that Lisa Rinna's late mother gave her advice about leaving RHOBH in a dream? And after you share your views, check back on our site for more Days Of Our Lives news.