General Hospital Spoilers: Will Ava Rat Nina Out to Protect Herself From Sonny?
General Hospital spoilers indicate Nina Reeves (Cynthia Watros) isn't going to like it one bit when she starts feeling like she's playing second fiddle in her relationship with Sonny Corinthos (Maurice Benard). While Nina has always worried that Sonny's ex might come along and steal him away, she was never worried about this ex — Ava Jerome (Maura West). Until now. As Ava and Sonny continue to work together to take down the Gatlin family and their connections that are clearly angling for Sonny and his family, Nina will be left scratching her head and wondering when Ava and Sonny became besties and she became a third wheel.
General Hospital Spoilers — Ava Jerome And Nina Reeves BFFs
Once upon a time, General Hospital spoilers show Ava and Nina were anything but friends. Remember, Nina abducted Ava's daughter? Somehow, they found their way to being friends since then and we'd be lying if we said their shared distaste for Carly Spencer (Laura Wright) wasn't a big part of that. Ava loved every minute of Nina scooping Sonny up while Carly was none the wiser that he was even alive.
She relished Nina's plans to take Carly down, but somewhere along the way, she did think Nina went a bit too far. Maybe that started with the SEC tip. Regardless, Ava has thought for some time now that Nina has been in over her head and Sonny is bound to find out the truth eventually. So when it seems like Ava is cozying up to Sonny, it may leave Nina rather paranoid and wondering if she's going to rat her out to save her own behind.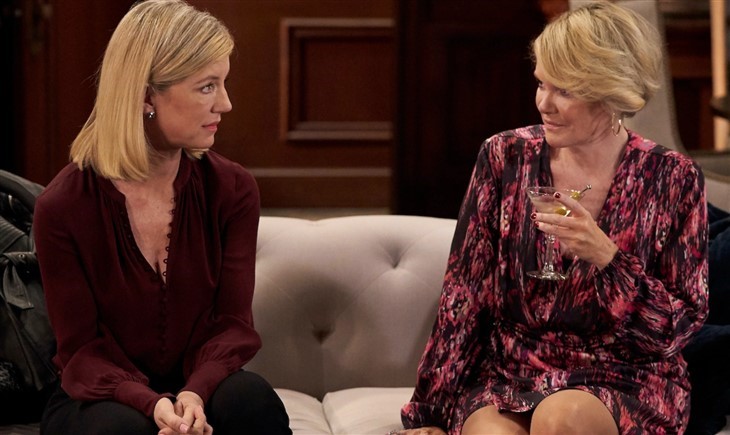 GH Spoilers – Spill It's None Of Nina Reeves's Business
When Nina tries to figure out what Sonny and Ava are up to, she'll only be met with resistance on the homefront. Sonny doesn't want her involved, which can't mean anything good from where Nina sits. What on Earth could Sonny need Ava's help with that Nina can't know about? It won't dawn on her that it may be Sonny who is coming to Ava's rescue. Regardless, she's going to worry that too much time spent together might lead Ava to become more interested in protecting her own interests. The last thing she would want is for Sonny to find out what Nina has been up to — plotting against Carly — and to learn that Ava knew about it the whole time.
General Hospital Spoilers — Trust Is A Fickle Thing
Ava might try desperately to reassure Nina that her meetings with Sonny have nothing to do with her or their relationship, but Nina's anxiety is going to get the best of her nonetheless. Tension will rise in their home and it could lead to Nina looking for someone else's shoulder to cry on when Sonny and Ava are otherwise unavailable. Rumor has it that someone else could turn out to be Eddie Maine (Wally Kurth). Will Nina end up botching her whole relationship with Sonny when she suspects he's sneaking around with Ava? Who might she hold more accountable for keeping her in the dark — her fiancé, or her best friend whom she actually shares everything with? Stay tuned for more GH news and spoilers to find out.