Hallmark's Love's Greek To Me Sees Torrey Devitto & Yannis Tsimitselis In Greece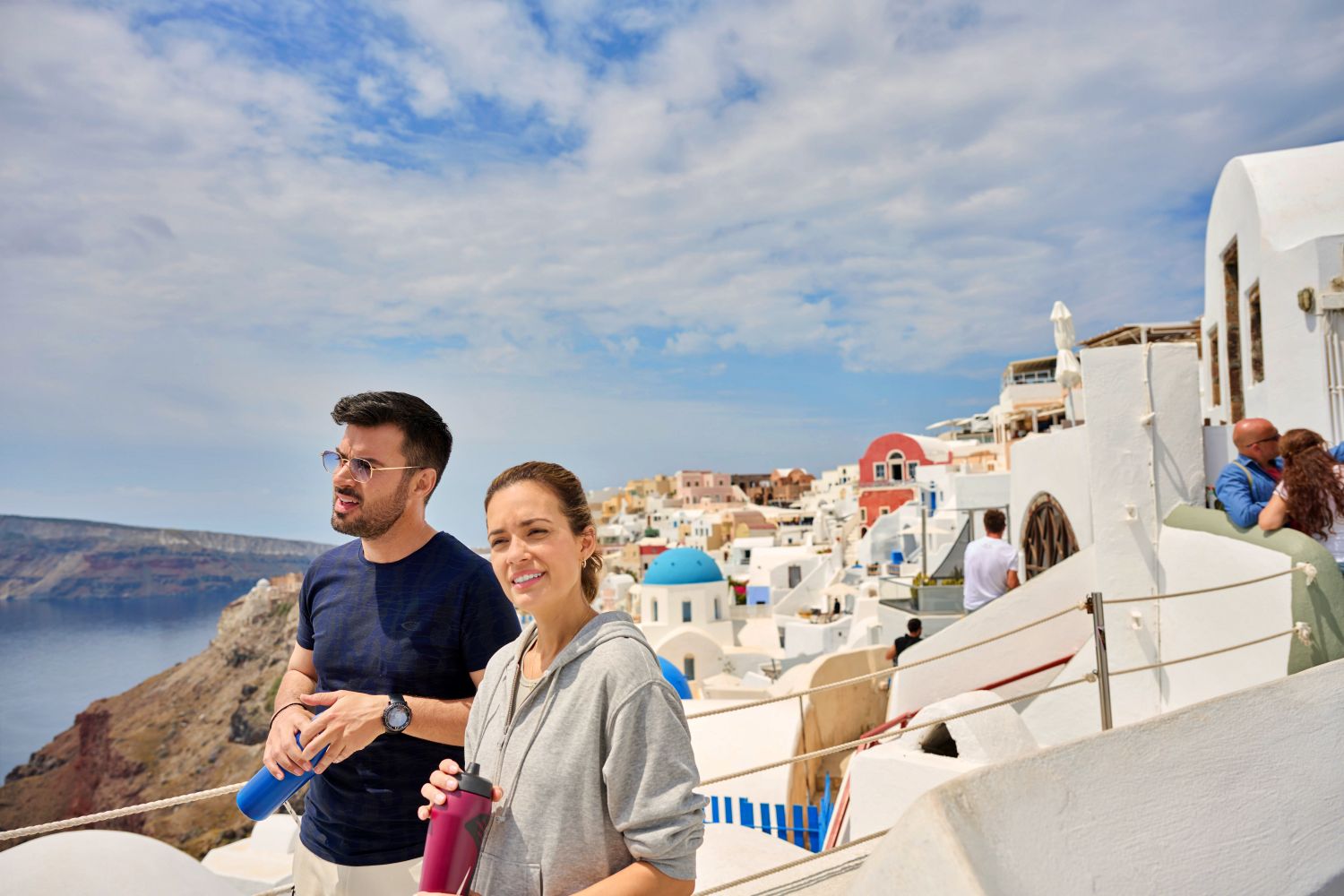 Torrey Devitto, Yannis Tsimitselis and Marina Sirtis star in the new, original movie, Love's Greek To Me on Hallmark Channel. The movie airs as part of the network's June Weddings programming event and was partially shot on the beautiful Greek Island of Santorini. Read on to find out more about the movie and its cast, watch the trailer and view beautiful images taken on the set.
Love's Greek To Me on Hallmark Channel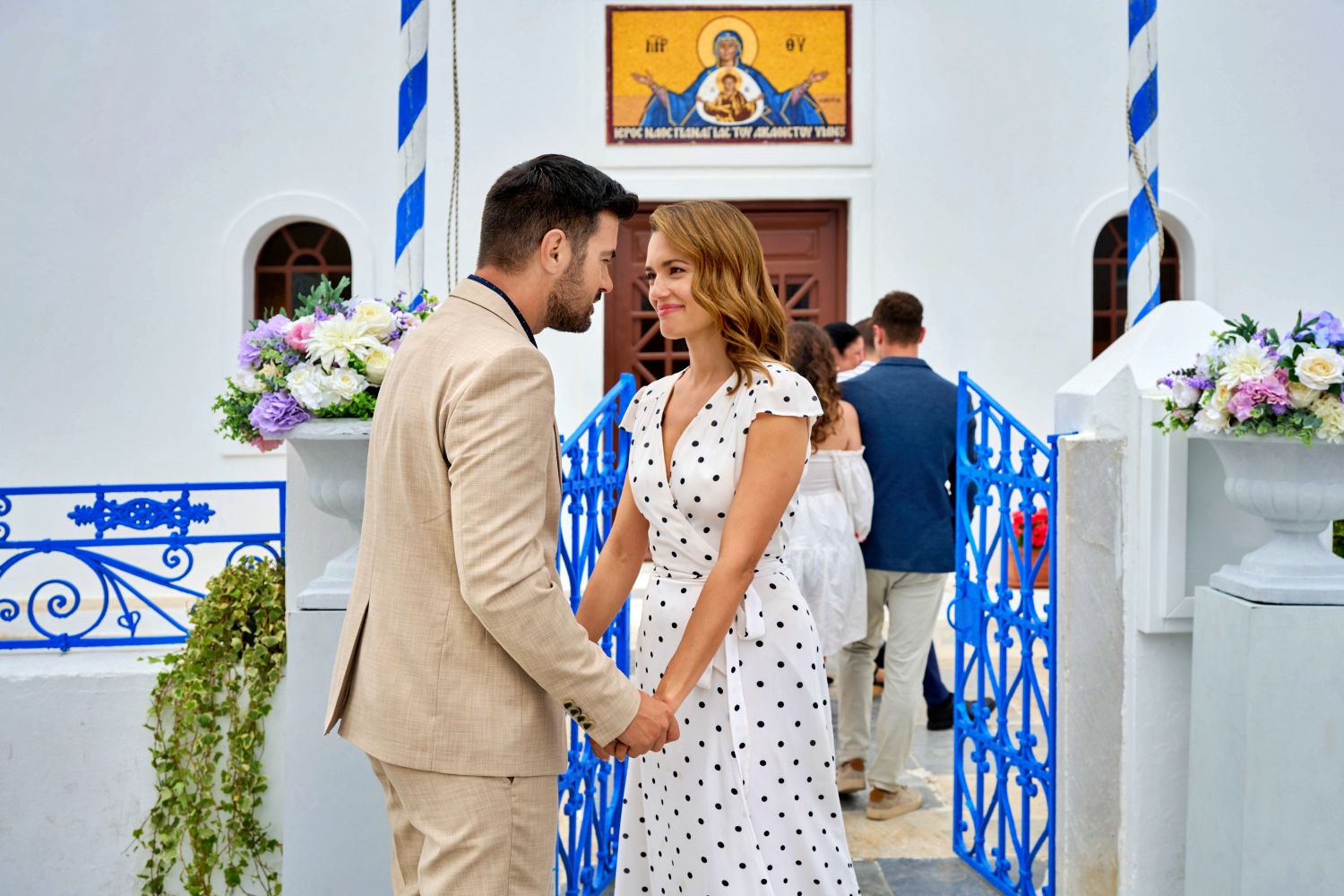 According to the official synopsis, Ilana (Torrey Devitto) and her Greek boyfriend, Mike (Yannis Tsimitselis) travel to Santorini for Mike's sister, Alex's (Katerina Konstas) wedding. As is the warm, Greek way, Mike's family welcomes Ilana with open arms. However, when Mike surprises Ilana by asking her to marry him at the same lighthouse where his father proposed many years ago, his well-meaning mother, Athena (Marina Sertis) shifts into overdrive.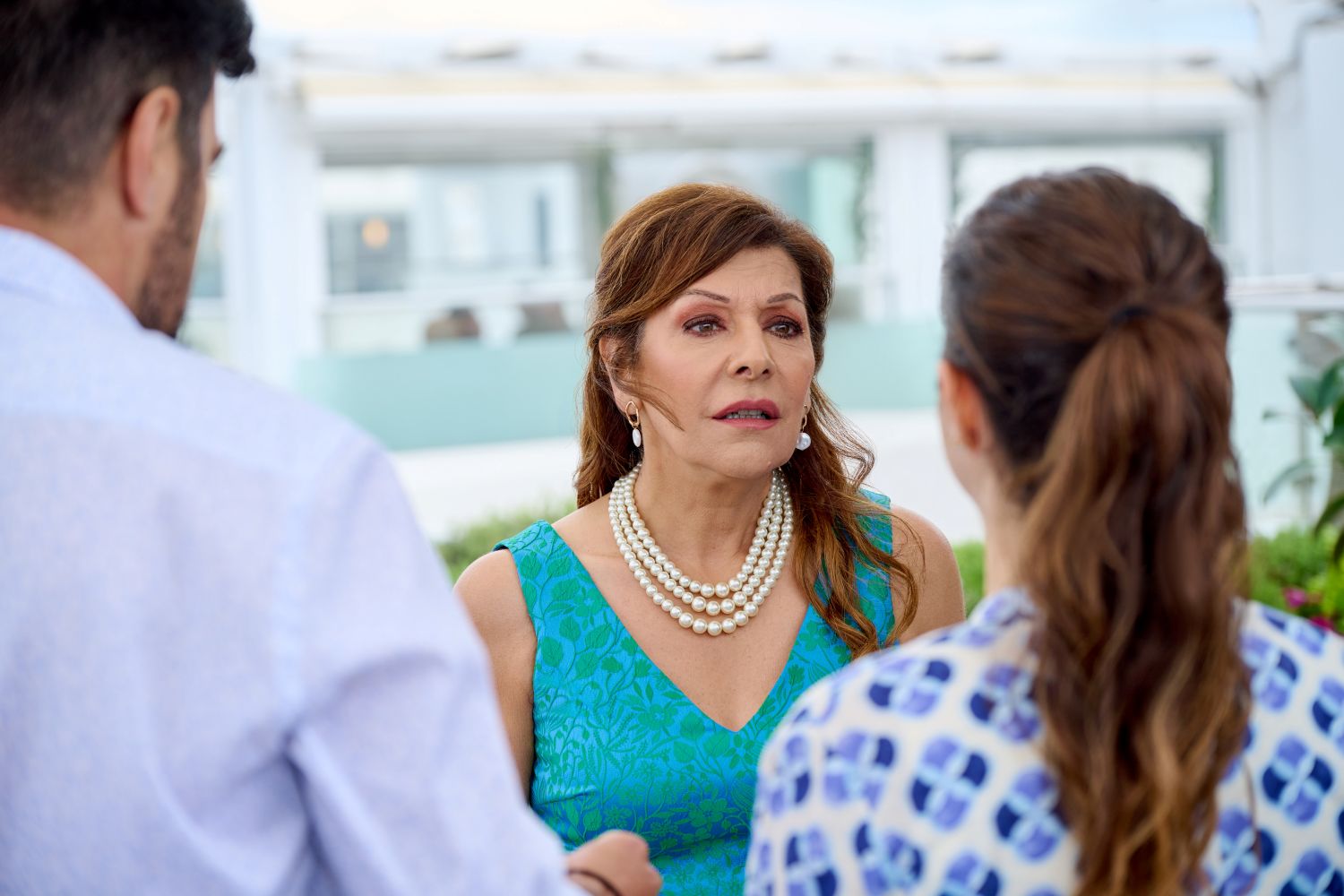 It seems she is thrilled to be gaining another daughter and just can't help herself. This leads to Ilana getting caught up in the vortex of Athena's desire to "help." She purchases a wedding gown for her future daughter-in-law and even books the church, despite the fact that Ilana and Mike are in no hurry to set a date or plan a big fat Greek wedding.
Meanwhile, as Alex's big day draws near and the preparations ramp up, Ilana becomes more uneasy about what the future may hold for her and Mike. This leads to her wondering if they are truly meant to be together, or if love is all Greek to her.
Where have you seen the cast of the Hallmark movie before?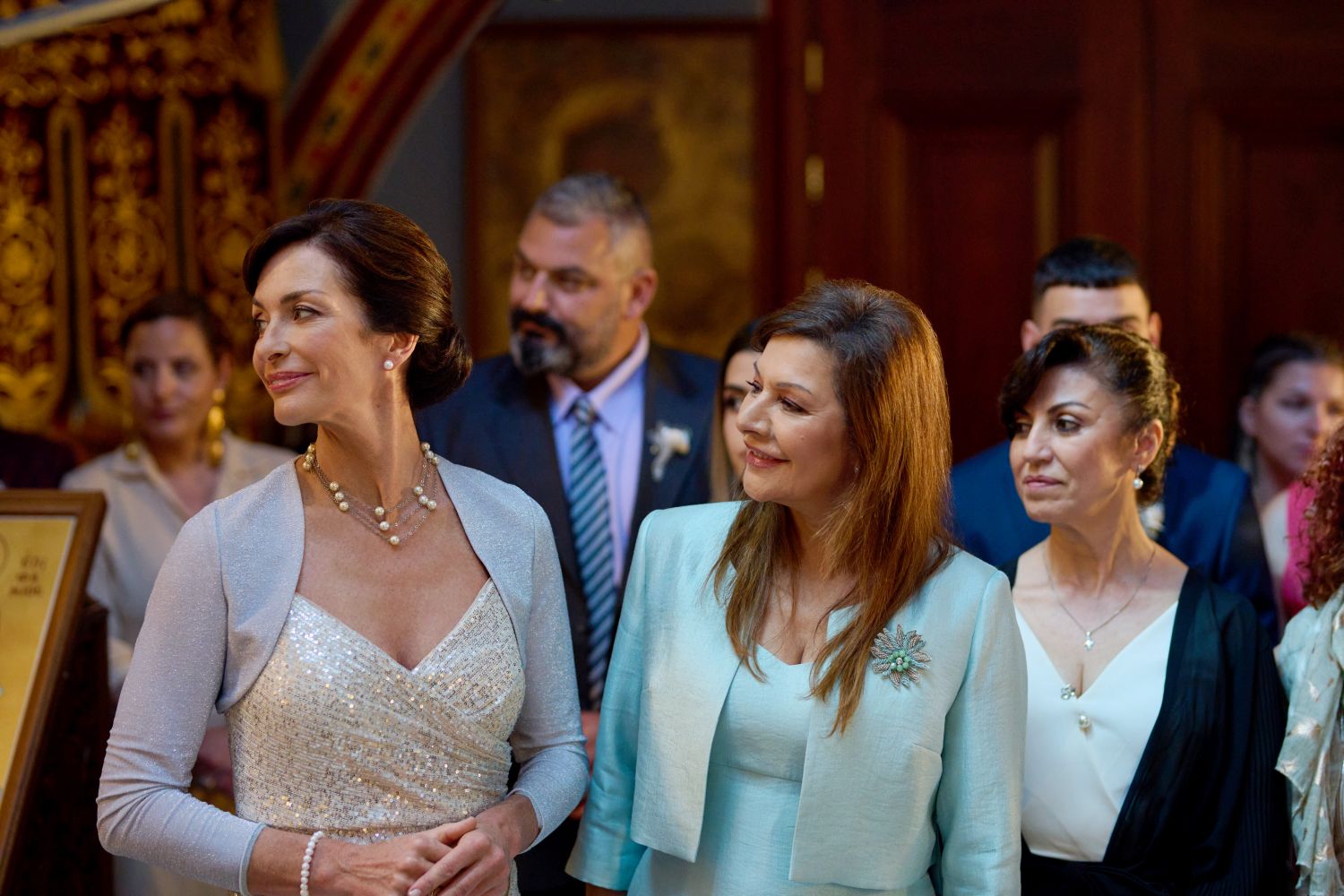 Torrey Devitto, who plays Ilana, has previously starred in Chicago Med, The Rite, Evidence, I'll Always Know What You Did Last Summer and Twas the Night Before Christmas. Meanwhile, Yannis Tsimitselis who plays Mike has previously starred in Mary Mary Mary, Sirens in the Aegean and The Policeman of the 16th Precinct.
Fans of Star Trek will remember Marina Sirtis from Star Trek: Picard, Star Trek: Generations, Star Trek: First Contact, Crash and Star Trek: The Next Generation, who plays Mike's mom, Athena. Currently, there are no movie credits for Katerina Konstas who plays Alex, other than for this movie.
According to the official IMDb page, Dimitri Gripari (Dangerous Liaisons, NYET! – a Brexit UK Border Farce) plays Chris, while Maria Maragkou (Change of Scene, Tapestry: International Stories of Inspiring Women) is in the role of Lea. Panagiotis Margetis (My Big Fat Greek Wedding 3, Glass Onion, Look at the Stars and IQ 160) plays Theo.
Behind the scenes of Love's Greek to Me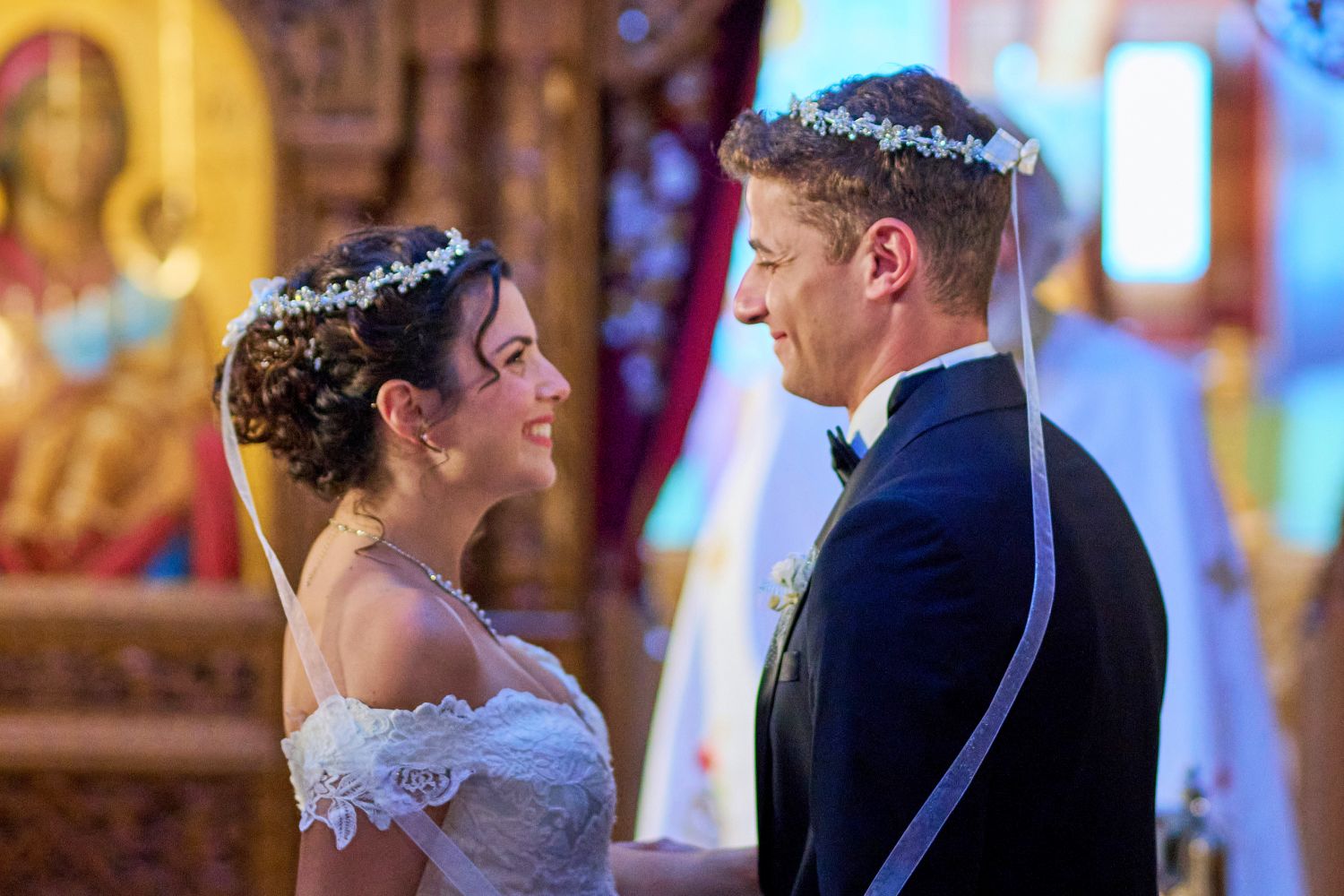 Love's Greek to Me hails from Hallmark Media with Cameron Johann acting as executive producer. Meanwhile, producers are Jeffery Beach, Philip Roth, Kristina Kambitova and Maria Komninos. The movie is directed by Michael Robison from a script by Joie Botkin.
When does Love's Greek to Me premiere on Hallmark Channel?
Love's Greek to Me premieres on Saturday, June 10, at 8 pm ET/PT on Hallmark Channel as part of the June Weddings programming event. Watch the trailer for the Hallmark movie here:
Readers, are you looking forward to seeing this new, original movie, set in beautiful Santorini? Let us know by dropping a comment below.