Neighbours Spoilers: Chloe Declares Her Love For Elly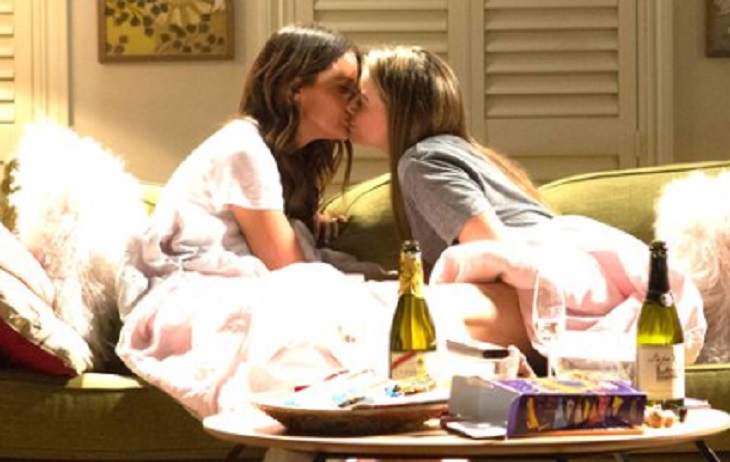 Neighbours' spoilers reveal that Chloe will declare her love for Elly later this month as she struggles to control her growing feelings.
As we revealed last week, an unexpected storyline sees Chloe kissing Elly during a candid conversation at the Kennedy house, only to declare it an in-the-moment mistake the next day.
Neighbours Spoilers – The Shocking Kiss
The kiss couldn't come at a worse time, as Elly proposes to her boyfriend Mark – who also happens to be Chloe's sister – the next day. It might look like this is a reaction to the kiss but it's not, Elly genuinely doesn't think any more about the kiss, believing Chloe's excuse.
But it was much more than a mistake for Chloe, who struggles to keep control of her emotions a few days later during Elly and Mark's engagement party at The Waterhole.
To try and cope with her feelings she decides to get drunk, hoping that it will take her mind off the situation. But it actually makes things worse for her as she struggles to control her behaviour. For this reason, she decides to make a spontaneous speech in front of all their friends and family, shocking everyone by revealing the Brennan's Huntington's diagnosis.
When all the drink finally gets too much, Chloe becomes unwell and has to go outside into the bar's beer garden, where Elly kindly looks after her. Chloe is thankful, but a little too thankful, leaving her declaring her love for Elly.
Who do you think's been the naughtiest Neighbour this year? Don't forget #Neighbours is now on all year round! 🎄🎁❄️🎅 pic.twitter.com/HrdqBQdizG

— Neighbours (@neighbours) December 5, 2018
Once again Elly is left in shock and Chloe has to control the damage by making excuses for her behaviour. This time she assures Elly that she is always overly affectionate when she's drunk, telling anyone that she loves them.
Elly once again accepts Chloe's explanation and invites her to be a bridesmaid at the wedding. She appears to happily accept, but will Chloe cope watching the woman she loves marry her brother?
Check out our exclusive Neighbours spoilers page for more details!
Want up-to-the-minute soaps news, spoilers, and gossip on your social feeds? Just hit 'Like' on our Facebook page and 'Follow' on our twitter