Neighbours Spoilers: David And Aaron Add To Their Family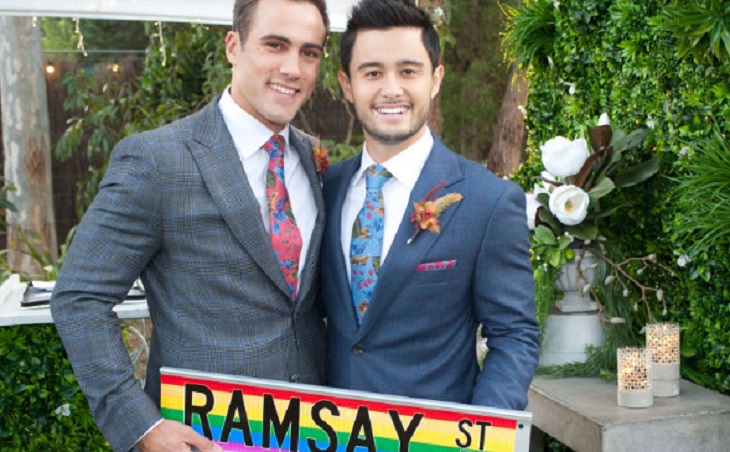 Neighbours' producers revealed that the 8,000th episode of Neighbours – which aired December 21st – revolved around the death of Valarie Grundy. Valarie is a long time Ramsay Street resident who lived in the corner of the street for 34 years, successfully avoiding the street drama.
After Val passes away, Toadie enters her house and is shocked to find many Ramsay Street artefacts from over the years, realising that was how she attempted to feel 'close' to her neighbours. As part of Toadie's attempt to help after her death, his brother's family, the Sharma-Rebecchis, agree to take on the responsibility of looking after her dog, Reg, until they can track down her next of kin.
Neighbours Spoilers – There's A New Pup In Town
Although the family are keen to make the arrangement work, it's clear from the start that it's a bad idea, as Reg constantly fights with the dog they already have, Clancy. Shane and Dipi therefore realise that they need to come up with another plan but thankfully David Tanka considers taking the responsibility off of their hands.
David has noticed how much Aaron (Matt Wilson) loves playing with Reg and how well they get on. For that reason, David asks Mark if he would consider allowing them to adopt the pooch, having it live with them at number 24. He's unsure at first, especially considering how clean he likes the house to be. But he finally agrees, and Aaron is over the moon to have a new pet.
Of course, it's no surprise Aaron and Reg (who is named after Neighbour's creator Reg Grundy) as he is Matt's dog in real life and is actually called Timba!
When you realise it's almost a year until Christmas again… #Neighbours pic.twitter.com/1xwvAJAydl

— Neighbours (@neighbours) December 28, 2018
How will Reg settle into his life as the newest Brennan addition?
Tune into Neighbours on Boxing day to watch the storyline begin!
Check out our exclusive Neighbours spoilers page for more details!
Want up-to-the-minute soaps news, spoilers, and gossip on your social feeds? Just hit 'Like' on our Facebook page and 'Follow' on our twitter