1000-Lb Sisters Star Tammy Slaton Posts First 'No Filters' Pic After Weight Loss
1000-Lb Sisters fans have waited a long time for some very special pics. Because Tammy Slaton typically uses filters on her Instagram photos, her followers repeatedly have asked the 1000-Lb Sisters star to show her real self. And now, for the first time, Tammy finally came through.
Find out what's special about Slaton's newest photos. And learn what fans noticed. Get all the details below.
1000-Lb Sisters Spoilers – Tammy Slaton Posts 'No Filter' Pics!
Forget those filters. Because after losing so much weight, Tammy Slaton finally listened to her fans. And the 1000-Lb Sisters star proudly posted pics without any filters. But fans also noticed something special about Slaton's newest pics, pointed out People.
And as the 1000-Lb Sisters star revealed in her caption, her self-esteem has skyrocketed. The 36-year-old shared her pride in posting her first pics on Instagram without any filters. However, fans also noted that Tammy didn't need an oxygen tube as she posed for those photos. And Slaton's Instagram followers praised both her new look and her improved health.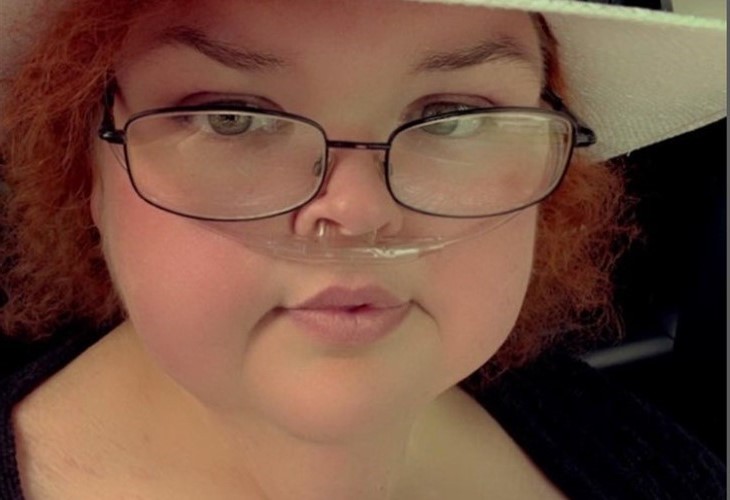 The 1000-Lb Sisters star sported a jeans jacket, white flower top, and a silver necklace. And Slaton bravely struck different angles for the pics to reveal her real self. "Six beautiful photos of myself without filters," wrote the 1000-Lb Sisters star in her caption. And among those commenting, Tammy's weight loss surgeon Dr. Eric Smith applauded. "So proud of you❤️," wrote the physician.
Tammy Slaton Proudly Shares 'Beautiful Photos of Myself Without Filters' and No Oxygen Tube https://t.co/DVsvvOmtBc

— People (@people) May 27, 2023
1000-Lb Sisters Spoilers – Tammy's Fans Praise 'Heartwarming' Pics
And fans joined Tammy in showing pride in what TV personality and podcaster Sarah Fraser called a "beautiful" photo display. "Congrats on your health journey," added Sarah. "You look amazing and you're a star." And several fans gushed over what one called Slaton's "courage in posting no filter pics!"
The most recent 1000-Lb Sisters season showed how Tammy finally achieved her goals by spending time at a weight loss rehab facility in Ohio. And one episode in particular showed Slaton's excitement and triumph. That episode revealed the 1000-Lb Sisters star going from 717 lbs. to under 550 lbs. so that she could qualify for weight loss surgery. And Tammy went significantly below that goal, with the scale dropping to 534 pounds.
"When I got on the scale and I saw the scale was at 534.7, I kinda stopped breathing for a second," confessed Slaton on the special episode. And the 1000-Lb Sisters star pointed out, "I'm like 14 lbs. under my goal weight. From over 700, that's a huge drop." And Tammy's surgery made even more of a difference. For instance, rather than the wheelchair or walker she used to need, Slaton has enjoyed walking on her own.
Fans have shared their support for Tammy repeatedly. For example, after discovering that the 1000-Lb Sisters star no longer needed to use mobility devices, one fan wrote, "Seeing Tammy stand on her own is so heartwarming. Proud of y'all's progress. ❤️" And another shared, "Way to go Tammy !! No oxygen and walking on her own!!"
Tell us what you think. How do you feel after seeing the 1000-Lb Sisters star's dramatic weight loss transformation? And after you share your views, check back on our site for more reality TV news.