Are Bachelor In Paradise Fans Ready For More Of Blake Moynes?
Rumors are circulating that Blake Moynes may possibly appear as a cast member in the next season of Bachelor in Paradise. Fans have been hearing his name a lot lately due to his career. Actually, much of it takes him places in paradise already. He was on Katie Thurston's season of The Bachelorette, but his love interest chose another partner. However, he chose to redirect his energy toward his love for wildlife afterward. Would fans of ABC's Bachelor franchise be thrilled to see more of Blake? Read on to find out.
Bachelor In Paradise Rumors – About Blake Moynes
Actually, Katie Thurston was not the one and only appearance of the Canadian on ABC. Cast your mind back a few years, and you will recall he was interested in Clare Crawly. Well, that didn't happen and she married someone who was never on the show. However, he started off well until she fell in love with Dale Moss. When Blake noticed that Clare's mom had fallen and broken her nose, he reached out to the star via Instagram. Appreciating his thoughtfulness, she decided to reward him with her first kiss.
Wherever the Island-based Bachelor in Paradise shoots footage there are guaranteed to be stunning views and awesome scenery. Well, Blake is totally used to that sort of thing. He recently shared about the freedom of Lolita the Orca. Plus, he travels to places in Africa and elsewhere to film and support wildlife. This is a guy who has a busy lifestyle, adventuring for the good of the planet. So, it will probably take someone special to fit in with his lifestyle. But, do fans want him on the show again?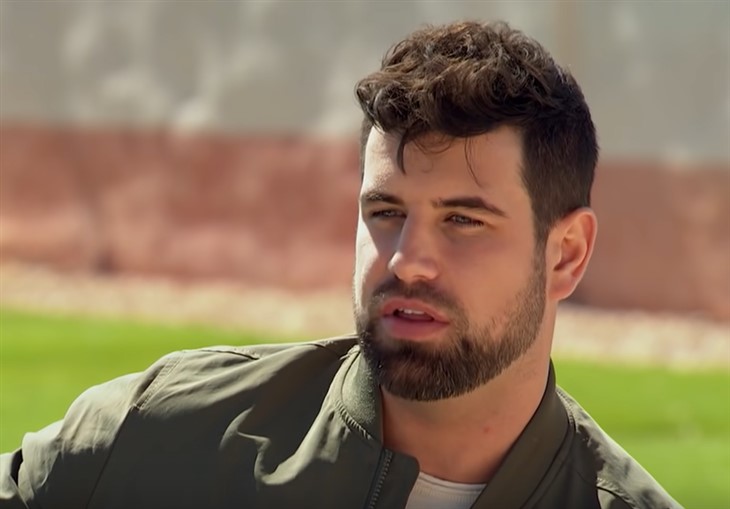 Bachelor In Paradise – Blake Moynes Rumors
The rumors that Blake might return for another shot at love arrived on Twitter via @Zacharyreality. Well, when asked what fans think of him being on the show, there were some mixed responses. Slamming those who don't want him, @KarChristiansen wrote, "I'd love it. The hate is so unnecessary. He really liked Clare, she left. He liked tayshia, but she left. He loved Katie, she left. He has consistently shown up for these women and why is he in the wrong?"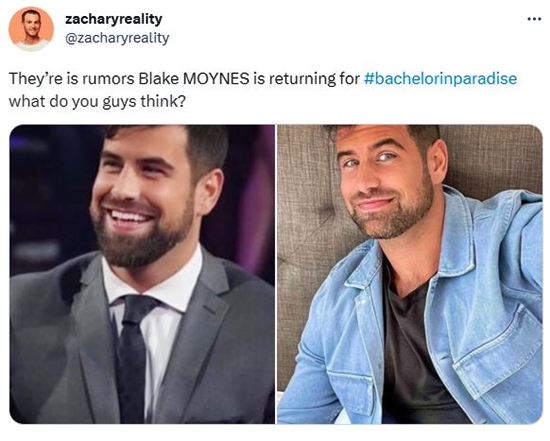 More Bachelor in Paradise fans also like him:
He deserves to find love! Bring him back!

— Miss Amandajane (@amandajane_24) June 1, 2023
Meanwhile, @jwbravofan opined, "A little eye candy who really wants to find love. Why not?"
Bachelor In Paradise Rumors – Those Against Him
Some Bachelor in Paradise fans think that Blake Moynes isn't ready to settle down. @AppleXenos commented, "the thing is that he's portrayed as being ready and wanting love, but he is always in Africa saving the animals, so I don't think he's ready to settle down. it's a waste of time."
This comment came from @alibusseyy: "We didn't ask for this."
What are your thoughts? Would you like to see Blake get another shot at love on ABC? Is he ready to settle down? Is there someone who wouldn't mind adventuring with him all over the place? Let us know your thoughts in the comments below.
Be sure to catch up on everything happening with the ABC show right now. Come back here often for Bachelor in Paradise spoilers, news, and updates!