Bachelor Nation Host Jesse Palmer & His Wife Emely Expect A Baby
When Jesse Palmer took over from Chris Harrison as the host of Bachelor Nation, a lot of ABC fans said, "Jesse who?" That was because he was actually featured on the franchise ages ago, in 2004. Anyway, he married Emely Fado, a model, in 2020. A year later he was hosting on ABC and fans have since gotten o know him. So, a lot of people seemed thrilled to hear that they expect a baby.
Bachelor Nation – Jesse Palmer Does Okay On The Show
A lot of shakeups came along after Chris Harrison left the show. Remember, a whole busload of people blamed Rachel Lindsay for his departure. No matter who was blamed for it, it can't have been easy to step into the big shoes that Chris left behind. After all, he pretty much was The Bachelor show.
Bachelor Nation fans saw that the changes opened the door for a slightly different format and that gave Kaitlyn Bristowe and Katie Thurston a nice break as they started co-hosting The Bachelorette. Mind you, it seemed that things soured between her and the former host. For a while, the shows lost some flavor, but people get used to change. So now, they feel happy for Jesse Palmer.
Bachelor Nation -Jesse Palmer & Emely Announce The Baby
On Friday, August 18, Jesse and Emely took to Instagram and shared some photos that were also featured in People Magazine. The first one showed Jesse with Emely Fardo as they stood together on the beach. Both of them cradled her tummy, and it was clearly a pregnancy photo. Another photo showed a closeup of a cute little baby bump.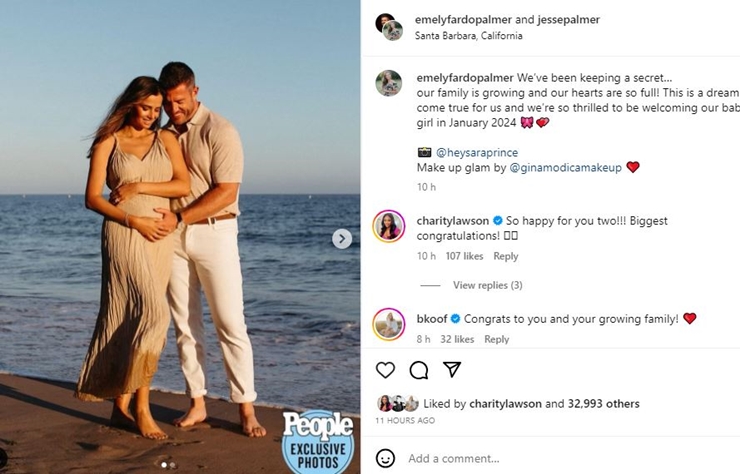 In the caption, the Bachelor Nation host and his wife said, "We've been keeping a secret… our family is growing and our hearts are so full! This is a dream come true for us and we're so thrilled to be welcoming our baby girl in January 2024 ." Wow! fans will be happy to already know the gender of the baby.
Bachelor Nation – GABC Cast & Fans Send In Congratulations
Bachelor Nation stars turned out to congratulate the couple. Charity Lawson wrote, "So happy for you two!!! Biggest congratulations!"
Becca Kufrin said, "Congrats to you and your growing family! ❤️"
Many more names from the franchise emerged with best wishes. they included Zach Shallcross, Wells Adams, Rachel Recchia, and more.
Not to be left out, fans also had their say. It certainly seems as if people who either participate in the show or who simply watch it all wanted to send in their congratulations. A few of them mentioned their pup, Lulu who they hope will take to the new sibling.
Are you happy for the couple? Let us know your thoughts in the comments below.
Check back with us for all the news, spoilers, and updates about Bachelor Nation. Come here often for everything happening on the ABC franchise.