Below Deck Sailing Yacht Spoilers: Gary Hides 'Kissing Life' From Daisy!
Below Deck Sailing Yacht spoilers reveal that Gary King just won't give up on Daisy Kelliher. But the Below Deck first mate might want to stop those random hookups if he wants to hold onto his favorite chief stew. And in a new interview, both Gary and Daisy reflected on what their future might hold.
Find out how the Below Deck Sailing Yacht stars view their unusual relationship. And learn how the chief stew feels about the first mate. Get all the details below.
Below Deck Spoilers – Daisy Kelliher Dishes On Gary King
First mate Gary King and chief stew Daisy Kelliher have fascinated their fans since 2021 with their on-again, off-again relationship on Below Deck Sailing Yacht. For instance, Gary and Daisy began their relationship clashing. However, their clashes segued into appreciation for each other. And that resulted in a friendship that verged on a flirtation, pointed out the Daily Beast.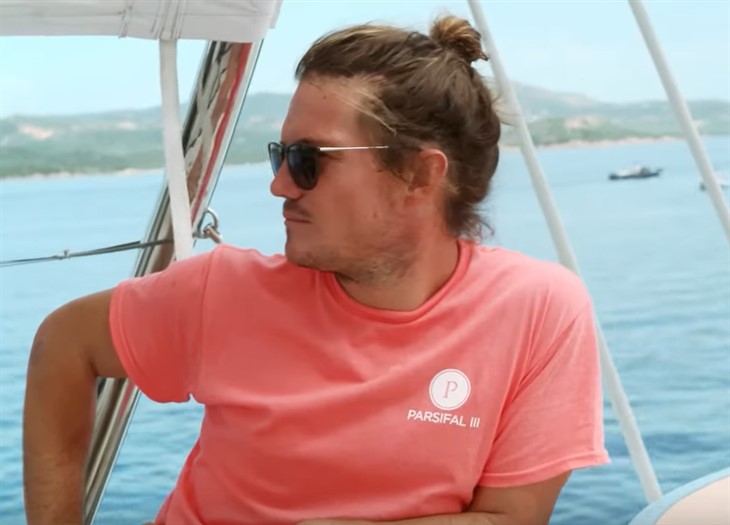 But season four of Below Deck Sailing Yacht has seen Daisy and Gary become the most intriguing couple on board. And Kelliher offered her insights into why fans feel so interested in their relationship. "It's like a little story that you're watching on a film," admitted Daisy about her relationship with Gary. "What are they. And will they get together?"
However, the Below Deck Sailing Yacht star admitted that fans long for more than they have seen so far. "And then you want the happy ending in the end," added Kelliher. But she pointed out, "Unfortunately, this is not a scripted film. We can't give everyone what they want."
Below Deck Spoilers – Gary King Hides His 'Kissing Life'
However, Daisy does her best to balance her work life with her personal life on the yacht. And she also appreciates the fans' interest in her relationship with Gary. But King has become frustrated on this season of Below Deck Sailing Yacht. And the first mate showed that frustration when Daisy questioned him about his latest hook-up with one of their co-stars.
However, Gary refused to respond to the grilling session. And he explained why in a Below Deck confessional scene. "Daisy doesn't need to know anything about my kissing life," claimed the first mate. "Because every time I've hooked up with a girl Daisy tries her hardest to c**k-block me. She doesn't want me," added Gary. "And she doesn't want anyone else to have me. It's f**king weird."
But Gary understands the viewers' fascination. "I think people are fascinated by our relationship because of how far we've come from season 2," reflected the Below Deck star. "We were almost like a brother and sister with how we were at each other's throats fighting and arguing over everything," admitted Gary about his first season starring with Daisy. But then season 3 showed the two "hooking up and kissing."
Below Deck Spoilers – 'Nobody Saw It Coming'
As a result of those ups and downs, both Gary and Daisy admit that fans sometimes feel confused about their relationship. And the first mate pointed out that their work relationship has changed as well. "We've gone from where we were to where we are now and having such a good, professional work ethic with each other," he added.
But Daisy thinks she knows why her relationship with Gary baffles some fans. Because "nobody saw it coming," said the Below Deck chief stew. And Daisy admitted that the lack of expectations includes her. "I don't think I saw it coming, especially the make-out in the hot tub."
https://twitter.com/BelowDeckSailng/status/1658855643892305920
However, Daisy also believes that her relationship with Gary has become "more relatable than those kinds of gushy couples" on other reality TV shows. And she joked about the gushing couples who repeatedly proclaim "I love you. I love you." Daisy feels "most people don't experience that kind of gushy love. But they do understand an unexplained attraction."
Tell us what you think. Do you believe that Daisy Kelliher and Gary King will eventually end up in a romantic relationship on Below Deck Sailing Yacht? And after you share your views, check back on our site for more reality TV news.