Josh Duggar Resurfaces In The Ashley Madison Affair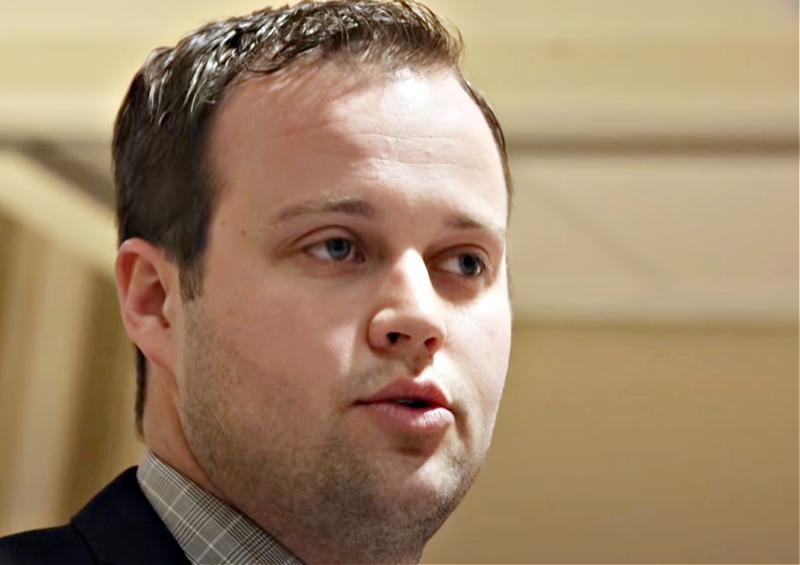 The Ashley Madison Affair is a three-part ABC docuseries exploring the controversial dating site's rise, fall, and infamous 2015 data breach. The show features interviews with those involved and tells the story of ordinary people with big secrets, blackmail, and more. Recall. Josh Duggar was outed for using the cheating site way before he ended up imprisoned for CSAM-related offenses. Well. he features briefly in the show.
The Ashley Madison Affair: Josh Duggar Caught Out
Josh Duggar brought a lot of public shame to his family. Recall, the 19 Kids And Counting alum was caught out cheating on Anna. Actually, he was the first celeb to be outed. Still, his wife forgave him. Not that TLC fans thought she had any choice. Some of them felt a bit sorry for her. They always believed it was an arranged marriage anyway, but as a fundie, women don't get much control of their own lives.
The Ashley Madison Affair wasn't the only shame that Anna had to live through. Josh Dugar also admitted to molesting some of his younger sisters. Although it happened years before he married Anna, it's public knowledge these days. Presumably, she forgave him for that as well. Since his arrest and incarceration for downloading child p0rn, Anna seems determined to believe that he is innocent of all charges. Well, one has to wonder why, seeing that he cheated on her and fiddled inappropriately with his sisters.
The Ashley Madison Affair: Josh Duggar Was Famous
Josh Duggar was quite high-profile when he was caught using the adult cheating site. At the time, he was on the road to entering politics. Actually, people liked the idea of the well-known reality TV star because he represented righteous family values. Bear in mind, at the time, people thought highly of the Duggar family on TLC. He might have been small potatoes by the time of his incarceration, but back in 2015, he was still considered to be famous.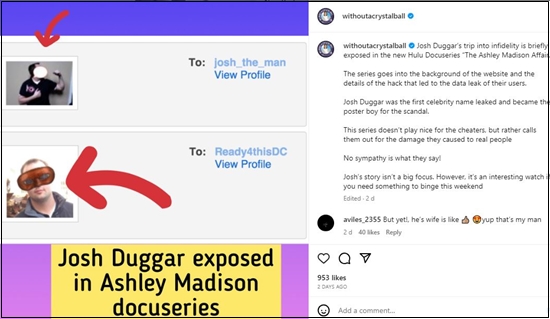 This weekend, Katie Joy from Without A Crystal Ball on Instagram talked about how Josh is featured in the Hulu show, The Ashey Madison Affair. In the caption, she said, "Josh Duggar's trip into infidelity is briefly exposed in the new Hulu Docuseries." However, she also mentioned that "Josh's story isn't a big focus. However, it's an interesting watch." Actually, while he was famous at the time, many more high-profile people were caught up in the scandal, including CEO Noel Biderman who started the site.
TLC Fans Comment
In Katie's comments, people seemed to be less sympathetic to Anna than they were when the news about The Ashley Madison Affair first surfaced. Probably that's because she still clings to the hope that her husband will win his appeal.
One follower wrote sarcastically, "But yet!, he's wife is like yup that's my man, (sic)."
Another person noted, "And they named their daughter Madisyn after all that ."
What are your thoughts? Sound off in the comments below.
Be sure to catch up on everything happening with the Duggar Family right now. Come back here often for all The Ashey Madison Affair spoilers, news, and updates.