Here's Why Meghan Markle Is No Longer Wearing Her Engagement Ring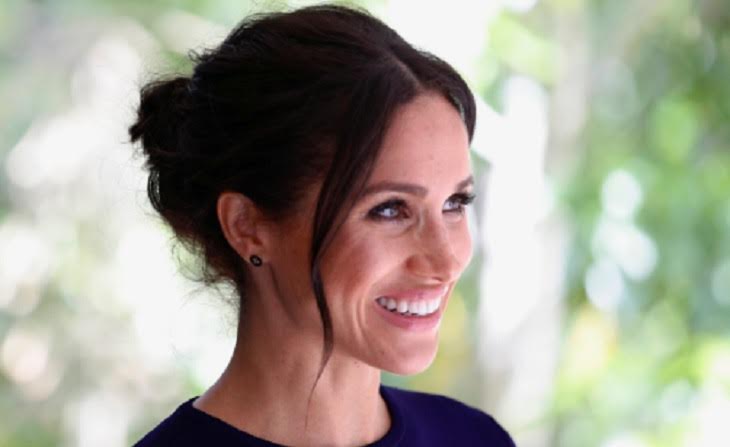 A few eagle-eyed royal observers have noticed that Meghan Markle is no longer wearing her engagement ring in public. But before fans start to worry about the state of her marriage, there's a good reason why she's keeping her diamond engagement ring at home. Here's what you need to know.
According to Harper's Bazaar, Meghan shined during her royal engagement at the Canada House in London with Prince Harry this week. But there was one accessory missing: her engagement ring, that includes several gems from Princess Diana's collection.
And while a lot of people believe that the diamond ring might be in the process of being cleaned, others think it's because Meghan is currently in her third trimester. There's a good chance the Duchess is dealing with a symptom that a lot of expecting moms deal with during the last lap of their pregnancies: swelling. Many health experts and professionals believe that swelling can get so bad that it can actually be dangerous for pregnant women to wear rings or other accessories on their fingers. That's why they are often advised to remove their rings and not wear them until after they give birth and the swelling goes down.
With that being said, it's without a doubt though that Meghan will go back to wearing all of her jewelry after she gives birth to her royal bundle of joy. While the Duchess hasn't made many comments about her pregnancy, she did tell a well-wisher during a public appearance back in January that she is due during the last week of April. We can't wait to see the first photos of Harry and Meghan's baby!
🇨🇦🇬🇧 The Duke and Duchess meet young Canadians working in fashion, the arts, business and academia.

Le duc et la duchesse rencontrent des jeunes Canadiens qui œuvrent dans les domaines de la mode, des arts et des affaires et dans le monde universitaire.#CommonwealthDay pic.twitter.com/Azv7mHNybu

— Kensington Palace (@KensingtonRoyal) March 11, 2019

In the meantime, let us know what you think by leaving us a line with your thoughts in our comments section below. And as always, come back to Celebrating the Soaps for all the latest news and updates on Prince Harry, Meghan Markle and the rest of the royal family right here.
Visit our dedicated Celebrating The Soaps Meghan Markle page for all the latest news, interviews and photos!