Kate Middleton and Meghan Markle Didn't Stand Together During Remembrance Day, And Here's Why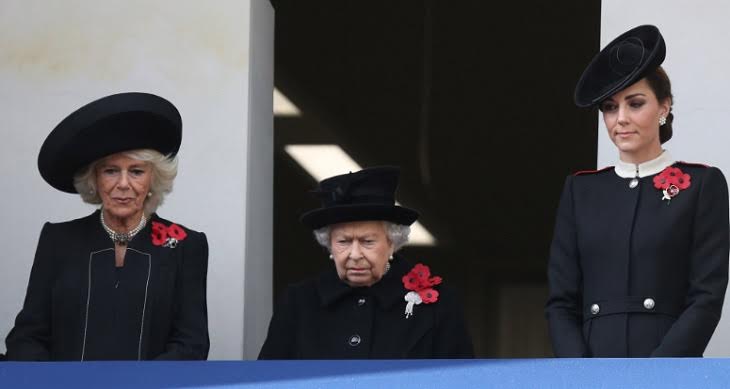 Last Sunday, Meghan Markle joined the rest of the Royal Family for the Remembrance Day service in London. The solemn affair commemorates those who were fallen during World War I, and this year's service marked the 100th year since the signing of the peace treaty to end the war. As it was Meghan's first Remembrance Day appearance as the new Duchess of Sussex, royal watchers keenly took note of her presence.
While many were excited to see Meghan with Kate Middleton at a public event again, some questioned why the 37-year-old former Hollywood actress stood separately from her sister-in-law. Was there a royal snub?
Kate Middleton, wearing an all-black ensemble, stood beside the Queen and Camilla Parker-Bowles at a balcony above the Cenotaph in Whitehall. Meghan was stationed at a separate balcony and was photographed standing beside Elke Budenbender, Germany's First Lady.
"You can reject the false choice of profits over values. You can choose to do good and be successful. You can work in the interest of the children and parents who use your products and still make your shareholders happy." – The Duke of Cambridge to Social Media companies pic.twitter.com/LXretdiT5c

— Kensington Palace (@KensingtonRoyal) November 15, 2018
While it definitely looked like Meghan was left out from the more established members of the Royal Family, their positions were not due to a slight. Rather, it was all about practicality and royal ranking. According to the Daily Express, a royal expert explained that the balconies at Whitehall were rather small. Queen Elizabeth II shared the same balcony with the Camilla, Duchess of Cornwall and Kate Middleton, Duchess of Cambridge–who are both future Queen Consorts. Meghan Markle, who is married to Prince Harry, sixth-in-line to the throne, is unlikely to hold the same title. However, to stand next to the wife of the German president is an honor in itself.
"To be on a balcony with the wife of the German President Frau Elke Budenbender as Meghan was obviously had a unique cachet," royal expert Richard Fitzwilliams stated. "This historic occasion was the first time a German President or representative of Germany was involved in the ceremony and this was a highly significant moment of reconciliation."
It's also interesting to note that this was the first time for Kate Middleton to stand next to the Queen during Remembrance Day. Since marrying Prince William in 2011, she usually stood at a separate balcony joined by other members of the Royal Family. This year, however, a space beside the Queen opened up as Prince Philip skipped the event.
Meanwhile, Prince Charles, Prince William and Prince Harry were all in attendance. Dressed in full military uniform, the males laid wreaths on the ground as the ladies looked from their respective balconies.