The Connection Everyone Is Talking About Between Meghan Markle's Baby And This Is Us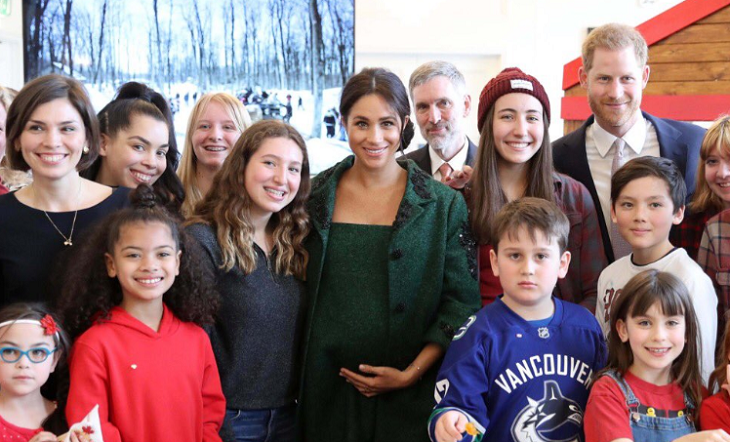 It looks like everyone on both sides of the pond are definitely dealing with some major royal baby fever these days! Even the highly-rated television dramedy This is Us can't help but reference Prince Harry and Meghan Markle's bundle of joy in an upcoming episode of the series. Here's what you need to know.
Kate Pearson's (Chrissy Metz) family is on pins and needles while she goes into early labor on the show. And while everyone is hoping for the best, Kate's brother Kevin Pearson (Justin Hartley) can't help but have a mini-meltdown in the waiting room while throwing in several Meghan Markle refences while he's at it, too.
This Is Us Characters Reference Meghan Markle And Her Baby
"If Meghan Markle were here, right, her doctor would be out here giving us updates every two minutes," Kevin says in a new teaser trailer of This is Us. "And Kate better not be back there getting anything less than Meghan Markle treatment, whatever that is."
We are delighted to welcome HRH Duchess of Cambridge to this year's #PortraitGala. pic.twitter.com/WL8VUXcLpF

— Portrait Gallery (@NPGLondon) March 12, 2019
Randall Pearson (Sterling K. Brown) also makes a reference to the Duchess of Sussex and her pregnancy by saying, "Baby Markle. Y'all know Baby Markle is going to pop out in full hair and make-up, right? Little crown and scepter, just [waving]."
It Seems Like Everyone Is On Meghan Markle Baby Bump Watch
Ha! Obviously they are on Meghan Markle bump watch just like the rest of us. And while there's no doubt that Prince Harry and Meghan Markle will be getting the royal treatment while she goes into labor, we can't help but wonder what the Pearson clan's reaction will be when she gives birth. What's more, we have a feeling that there will be plenty of references made to little Baby Sussex on future episodes of This is Us.
So far Meghan Markle herself has not made any comments about her pregnancy, although she did tell well-wishers at a royal event back in January that she's due the last week of April.
This will be the first child for the Duke and Duchess of Sussex. Celebrating the Soaps, along with the rest of Hollywood, can't wait to see the first photos of their little prince or princess in the upcoming weeks! Exciting times, indeed.
In the meantime, come back to Celebrating the Soaps for all the latest Meghan Markle news.
Visit our dedicated Celebrating The Soaps Meghan Markle page for all the latest news, interviews and photos!