90 Day Fiancé Fans Go 'Hell To The Naw' On Darcey Silva
90 Day Fiancé fans are familiar with Darcey Silva, who stars in Darcey & Stacey along with her twin sister. In fact, the sisters are notorious for their extensive plastic surgery surgeries. Darcey first came off as a real-life Barbie but quickly became a cartoonish caricature, as evidenced by her most recent appearance. Actually, fans think it's outlandish, and they don't support Darcey's plastic surgery journey.
90 Day Fiancé Spoilers – Years Of Darcey Silva & Her Plastic Trip
Darcey turned to body sculpting to achieve her idea of perfection. However, some folks suggest that she suffers from body dysmorphia. No matter what she does, she seems to have a deep dissatisfaction with the way she looks. In April 2022, Darcey's brows caught the attention of many fans. People couldn't understand why she wanted them to look like the horns on Texas Longhorn cattle.
These days, the 90 Day Fiancé star seems to want to look like a cartoon character. Actually, while she seems to never be happy with her appearance, she also can't seem to decide who she should love. Tom Brooks, Jesse Meester, and more men passed through her life. Perhaps she thinks nobody can really love her if she doesn't look perfect. But what is perfect? And when is enough, enough? TLC fans think right now is the time to end it.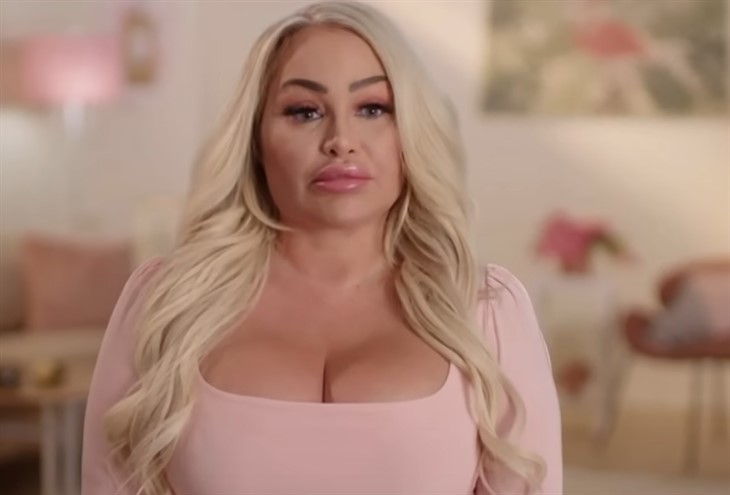 90 Day Fiancé Darcey Spoilers – Silva Reveals Herself Tanning
It's not normally considered okay to comment on the way people look. However, it seems that Darcey invites comments. Each time she posts, she seems to boast about her new and improved appearance. But, fans don't see it that way. Instead, they see someone who desperately needs some drastic counseling and therapy. So, they feel it's only right to comment.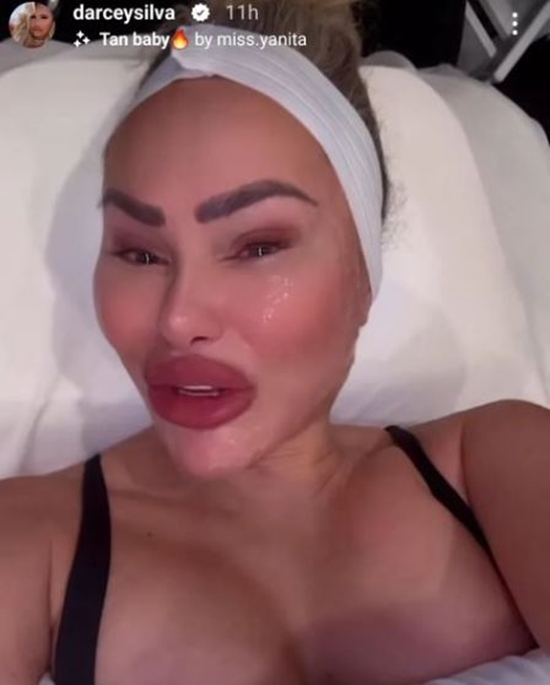 Recently, 90 Day Fiancé Update on Instagram shared a post by Darcey about getting some tanning done. In it, she looked terribly uncomfortable with her facelift so extreme. Plus, her cheeks looked too high and large. Overall, it was dominated by enormous lips. Notably, her chin was very pointy like a cartoon character. Some folks might hope that she used a distorting filter. But with Darcey, it could be what she really looks like.
90 Day Fiancé Darcey Spoilers – 'Hell No' Say Fans
90 Day Fiancé fans who took to the comments section genuinely seem shocked by the TLC star's appearance. One of them wrote, "Doctors should stop enabling this obsession with plastic surgery."
Meanwhile, another follower said, "If that's "glam", that's a Hell No for me!"
Plenty more comments went in like this one: "Looks like the Wildenstein (cat) lady from years ago."
One realistic commenter opined, "She needs to head straight to [a] psychiatrist, and her surgeons should lose their medical license!"
What do you think? Is it a "Hell to the naw" from you? Sound off in the comments below.
Be sure to catch up on everything happening with Darcey & Stacey right now. Come back here often for more 90 Day Fiance spoilers, news, and updates.