General Hospital Spoilers: Ned Knows Nina's Secret
General Hospital Spoilers reveal Ned Quartermaine (Wally Kurth) knows whodunnit, but when he wakes up from this coma, he might not remember that he knows anything about it. Brutal, right? And shocking! This entire time that Ned has been taking the heat for reporting Carly Spencer (Laura Wright) and Drew Cain (Cameron Mathison) to the SEC for insider trading, Nina Reeves (Cynthia Watros) was behind it all.
Overhearing her panicking to her attorney, Martin 'Marty' Grey (Michael E. Knight), was the best thing to happen to Ned in weeks. So it's a darned shame that he may lose all recollection of it. Moreover, if he doesn't wake up anytime soon, Carly could find herself behind bars alongside Drew before Ned has time to intervene. But when Ned wakes up claiming to not remember how he got there or any of the events leading up to his hospitalization, he's going to give Nina a glimmer of hope that it'll all be okay. Well played, Ned, well played.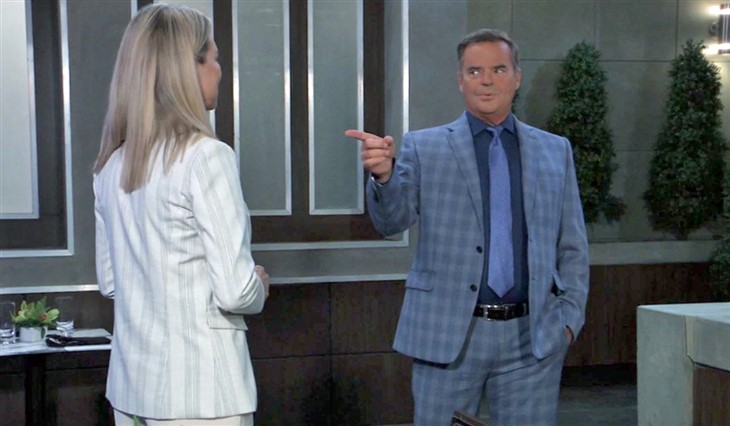 General Hospital Spoilers — Carly Spencer And Drew Cain Deserve Retribution
Ned meant what he said when he told Sonny Corinthos (Maurice Benard) he loved Carly — as Olivia's business partner, as Michael Corinthos' (Chad Duell) mother, and more.
She is family in his book. Obviously, Drew fits the same bill. Ned didn't want to see any of this happen to them, and he certainly didn't wish for it at such a painful time when Willow Corinthos (Katelyn MacMullen) is fighting for her life.
General Hospital spoilers show Carly didn't deserve all that Nina has done to her either, and when Ned comes to, he just might do something about it. Of course, memory loss is a plausible outcome here, and who are we kidding?
It's par for the course where a coma is concerned in Port Charles. But it's also possible Ned could be feigning the memory loss he presents with, and waiting for just the right time to pounce on Nina.
GH Spoilers Suggest – Ned Quartermaine Makes the Right Move This Time
In the past, Ned has been a man of mystery. He's kept many secrets from Olivia, and it's been the near destruction of his marriage on more than one occasion. Now that he and Olivia are back on solid ground, he's not going to jeopardize his marriage by keeping her in the dark.
This is important though. How can he clue Olivia in and make sure no one else finds out he's actually as sharp as a tack and up to his usual strategic tricks?
What if she disagrees with him on how to proceed? Ned wants to play the long game to get Carly back everything she deserves, but Olivia may want to tell the truth right away — especially if Ned doesn't wake up anytime soon.
General Hospital Spoilers — Nina Reeves Will Pay
Ned wants to see Carly back at the Metro Court as joint owner with Olivia, and that's just the top of his list of demands. It's hard to fathom what else he might come up with to extort Nina out of everything she has — and she'll take the bail, too. Nina knows the Quartermaine reputation well, and Ned isn't a man she would normally want to mess with.
Unfortunately for her, she won't have to wait for him to wake up to start paying for her misdeeds? Her own guilt and paranoia are going to eat her alive in the meantime as she worries that every day may be the day he wakes up and ruins her life.
Thus, when Ned comes to and insists he doesn't remember a thing, Nina just might think she's off the hook — and that's just the Quartermaine way of getting one's enemy right where they want them. Keep checking back with us for more GH news and spoilers to see how this pans out.