Alaskan Bush People: Bear Brown Beams From Ear To Ear
Alaskan Bush People star Raiven Adams separated from her husband, Bear Brown, and gave birth to her second son, Cove in Texas.
It seemed that they made some compromises regarding River and Cove, but it's not clear if she returned to Washington. This week, the couple and the kids are together, and Bear's beaming from ear to ear.
Alaskan Bush People: Bear Went Back To The Ranch
In mid-June, Bear announced that he was going back to the ranch. If you don't know, it's not yet ready for the family to live there permanently.
So, he took some time and headed for the hills. There, he was going to be off the grid a lot, but he still managed to communicate with his followers from time to time. Most of it seemed like bad news. His generator broke down, and in one post, he looked really down as he claimed he has a bad "headache."
Alaskan Bush People fans felt a bit concerned for the Discovery star. He'd made out as if it was a permanent move: notably, without Raiven and his boys. Plus, he seemed to be irritated that none of his siblings would help him repair the generator. But he sounded happier this week, and he gave a family update. The idea was that should go back done the mountain, spend some time with his kids, and then return o the hills with them later.
Alaskan Bush People: Bear Reunites With Raiven
Late on July 18, the Discovery star took to his Instagram again, and this time, he revealed that he was with Raivejn, Cove, and River. River stood next to his dad, looking pleased with life. Meanwhile, Raiven smiled slightly. Cove seemed too young to know what to do. So, he just looked cute. While Bear said in his caption, "Family!!!! My little wolf pack!" it was the smile that did it for fans.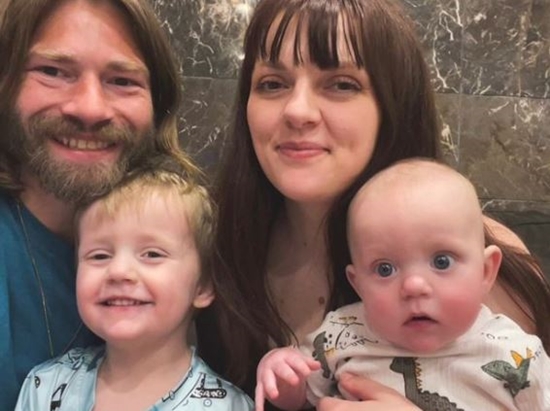 Alaskan Bush People fans couldn't help but notice that Bear grinned, literally from ear to ear. Folks are none the wiser about what the situation is with Riaven. She's not easy to follow on Instagram. She changed account names, hides posts, unhides posts, and delivers info, but stops shy of details. So, fans can only guess whether this is a permanent reunion or just a temporary custody visit for the boys.
Comments On Smiling Bear & His Family
Alaskan Bush People fans quickly took to the comments section. One of them said, "Love seeing you all together ❤️."
Meanwhile, another one wrote, "Your boys are adorable Glad to see you all together ❤️."
What do you think about Bear smiling from ear to ear? Are you happy to see him with his two boys again? Let us know in the comments below.
Be sure to catch up on everything happening with Discovery right now. Come back here often for more Alaskan Bush People spoilers, news, and updates.