Eva Longoria Enjoys Desperate Housewives Reunion
Desperate Housewives fans still hope for a reboot of the beloved TV show. And two stars just gave fans a new reason to hope by reuniting at a red carpet event. However, only one Desperate Housewives star seemed, well, desperate for the reunion!
Find out about the reunion of two Desperate Housewives stars. And learn what one revealed. Get all the details below.
Desperate Housewives = Stars Stage Red Carpet Reunion
A red carpet event provided the perfect opportunity for two Desperate Housewives to reunite. And Eva Longoria didn't hesitate. When the Desperate Housewives star viewed her former cast member, Jesse Metcalfe, she rushed over for a special reunion. And Eva explained why she delighted in the impromptu reunion in an interview with People.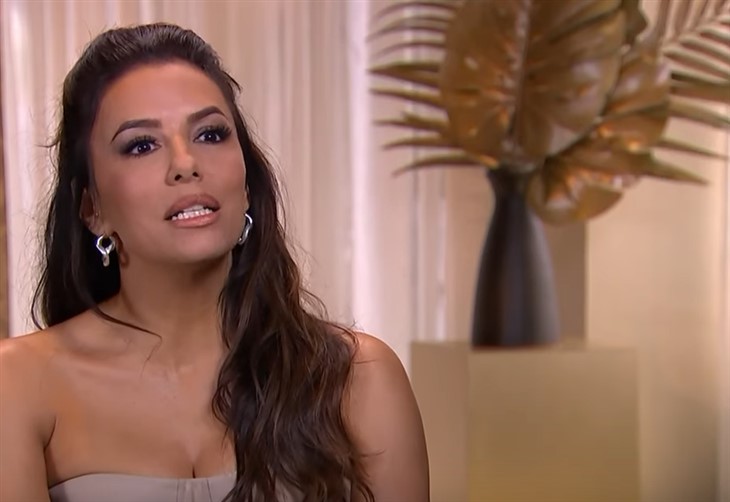 The Desperate Housewives red carpet reunion took place at the premiere of Longoria's directorial debut, Flamin' Hot. And Eva showed her affection for her Desperate Housewives costar by hugging Metcalfe. But the former co-stars, who portrayed Desperate Housewives love interests on the TV show, also took time to reconnect.
And Eva explained that she needed to "grab" Jessie when she saw him at her red carpet event. She joked that she hadn't seen him "in a million years." However, Longoria shared another connection to Desperate Housewives at her premiere. And she revealed that directing Flamin' Hot seemed her destiny even before she starred on Desperate Housewives. That show then enhanced her future as a director.
Eva Longoria Reunites with 'Desperate Housewives' Costar Jesse Metcalfe on 'Flamin' Hot' Red Carpet https://t.co/q5YSvs7TSH

— People (@people) June 10, 2023
Eva Longoria – Explains How Desperate Housewives Changed Her
Because fans associate Eva with Desperate Housewives, "people think I'm an actor-turned-director," admitted Longoria. "But I'm really a director-producer-turned-actor." And Eva added, "I've always loved being behind the camera, I've always been interested in the business side. And so directing always felt very natural to me."
As a result, Longoria shared that Desperate Housewives played an important role in achieving her career goals. "I used Desperate Housewives as my film school," revealed the actress. "That's where I learned everything." But directing the movie doesn't rule out a return to acting.
And Eva revealed, "I love acting, so I'll always do that." However, she admitted that Flamin' Hot set the bar "pretty high" for future directing projects. The drama-comedy takes its narrative from the true story of Frito-Lay janitor-turned-marketing-executive Richard Montañez. And since then, Eva has received "every script under the sun to direct next."
But Longoria indicated that she wants to wait to take on new directing gigs. And she explained, "I don't think I can say 'yes' to anything until I feel the way I felt about this movie." However, Eva does want to focus on Latino stories. And she pointed out, "It's my community, it's what I know best, it's my superpower." Flamin' Hot has become available for streaming on Disney+ and Hulu.
Tell us what you think. Would you like to see a Desperate Housewives reboot or revival? And after you share your views, check back on our site for more television news.