The Young And The Restless Spoilers: Abby And Devon Face Family Turmoil, Will They Survive?
The Young And The Restless spoilers indicate that Abby Newman (Melissa Ordway) and Devon Hamilton-Winters (Bryton James) haven't been a couple for long. However, Abby and Devon have moved into the Chancellor Mansion and are trying to give their son a stable life. Unfortunately, fall preview spoilers suggest that trouble is heading their way. Can Abby and Devon's relationship survive?
The Young And The Restless Spoilers – What Will Happen To Cause Turmoil For Abby Newman And Devon Hamilton-Winters
The Young and The Restless spoilers reveal that so far the biggest drama for Abby and Devon, other than being caught cheating has been their parents getting married.
Now that their wedding is over, perhaps Abby and Devon should concentrate on their relationship. Could a health crisis come up with Dominic Newman-Abbott-Winters-Chancellor (Rainn and River Ware)?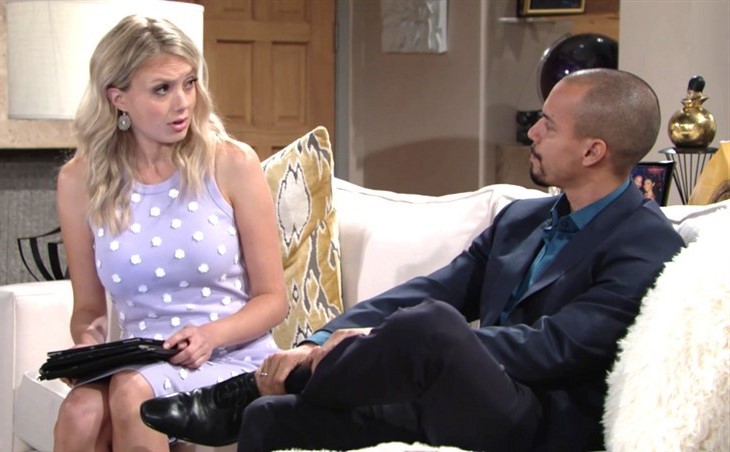 Devon has experienced hearing loss and other issues in his life. Could Dominic have a similar issue or maybe some other type of medical crisis?
With Mariah Copeland (Camryn Grimes) staying at the mansion for a while, perhaps she will be the person to notice an issue and bring it to Devon and Abby's attention.
After all, Mariah's daughter is having hearing issues now. Could Mariah even grow closer to Dom causing issues?
Y&R Spoilers – Will Tucker McCall And Ashley Abbott Be The Problem?
It seems that more than likely, Tucker McCall (Trevor St. John) and Ashley Abbott (Eileen Davidson) will be the ones to cause the drama.
Ashley and Tucker are sure to cause more drama in Genoa City because they cannot let this fight over Jabot go. Bill Abbott (Jason Thompson) is determined to save Jabot and he will face off with Tucker soon.
Ashley will also make a huge announcement that will rock the Abbott family. Ashley may act like she wants a truce so this announcement will likely blow that all to pieces.
Ashley and Tucker are set to bring a lot of drama and turmoil to Genoa City and this will likely last through the fall. What are Ashley and Tucker up to now?
The Young And The Restless Spoilers – Will Tucker McCall And Ashley Abbott Divorce?
Ashley and Tucker married but at one point it wasn't meant to last. However, now Ashley and Tucker have admitted that they love each other and they even discussed leaving town for a while.
Once they come back, Ashley is going to make an announcement that rocks the Abbott family. Could Ashley announce that she is ready to divorce Tucker?
Devon and Abby could certainly be pulled into this mess and it may put a huge strain on their relationship, especially if the two of them do not agree on whose side to take.
Is Abby and Devon's relationship able to withstand a major issue at this time? Could Abby and Devon come out stronger on the other side?
Be sure to catch up on everything happening with Y&R right now. Come back here often for The Young And The Restless spoilers, news, and updates.