The Young And The Restless Spoilers: Diane And Jeremy Are Users – Jack And Phyllis Caught In Trap
The Young and the Restless spoilers document that Jeremy Stark (James Hyde) is using Phyllis Summers' (Michelle Stafford) emotions to his advantage. That is arguably what Diane Jenkins (Susan Walters) has been doing to Jack Abbott (Peter Bergman) since she used the information Tucker McCall (Trevor St. John) purposely gave her.
Of course, one of the differences between both villains is that Jeremy and Phyllis do not have a child together. Diane loves Jack, with that point being debatable by those who oppose Walters' returned-from-the-dead character.
It is plausible to believe that Jack and Phyllis are on a path back to each other. But neither person can see that at this point in the storyline.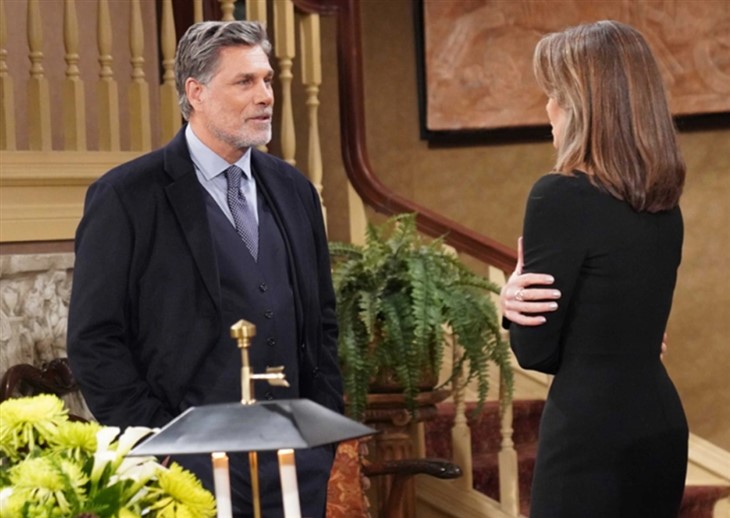 The Young And The Restless Spoilers – Allie Nguyen Was Used
Diane used the information she learned Allie Nguyen (Kelsey Wang) is Jack's unknown granddaughter to lure him to Los Angeles, California. Keemo Volien Abbott Nguyen's (Philip Moon) death drew him and Allie to the home where Moon's character lived.
Phyllis stood by Jack steadfastly during that period. But Stafford's character knew, based on history, that Diane's return was a major problem.
Jack quickly dismissed Diane's manipulation of him and his granddaughter. He later discarded Phyllis, who continued to warn anyone who would listen about the threat Diane represented.
Y&R Spoilers – Jeremy Stark Knows Phyllis Summers Is Ideal
Jeremy has nothing against Phyllis. He is grateful she used a burner phone to contact him.
Phyllis regretted the anonymous tip she provided to Jeremy after meeting him. She denied being the source, with Jeremy and Jack confirming otherwise.
Hyde's character needs someone as motivated as he is to get Diane. The plan he has convinced her to participate in is teased to involve theft.
That copycat crime is risky. That is why Jeremy wants Phyllis to get her hands dirty. Jack told Diane he would handle the heist of Nikki Newman's (Melody Thomas Scott) jewels in Chicago, Illinois.
The Young And The Restless Spoilers – Diane Jenkins Puts A Stop To Everything?
Diane is different from Jeremy in a distinct way. She is the mother to Jack's child and grandson, Harrison Locke (Kellen Enriquez).
So, Diane may recognize there is no end to the lengths Jeremy will go to inject revenge justice into her life. But Jack and Phyllis will remain in very dangerous positions until this drama is resolved. What all involved characters realize will soon be seen on Y&R.
This site is a leading source for everything linked to The Young and the Restless. Check back regularly for Y&R spoilers and news!