The Young and the Restless Spoilers Thursday, July 20: Christine Spars, Billy Covers, Tucker Brainstorms
The Young and the Restless spoilers for Thursday, July 20 reveal that Christine Blair (Lauralee Bell) spars with Phyllis Summers (Michelle Stafford). Billy Abbott (Jason Thompson) covers for Jack Abbott (Peter Bergman).
Elsewhere, Tucker McCall (Trevor St. John) and Ashley Abbott (Eileen Davidson) brainstorm their next big move. Keep reading to find out what is coming up in the CBS soap opera.
Christine Blair Spars
Y&R spoilers for Thursday, July 20 reveal that Christine and Phyllis will verbally spar. Phyllis turned herself in but made sure to have a meeting with EMT Carson (Walter Belenky).
Now, fans recently watched as Heather Stevens (Vail Bloom) met with Christine to go to bat for Phyllis. However, Christine thinks everyone needs to be held accountable to the law, including Phyllis.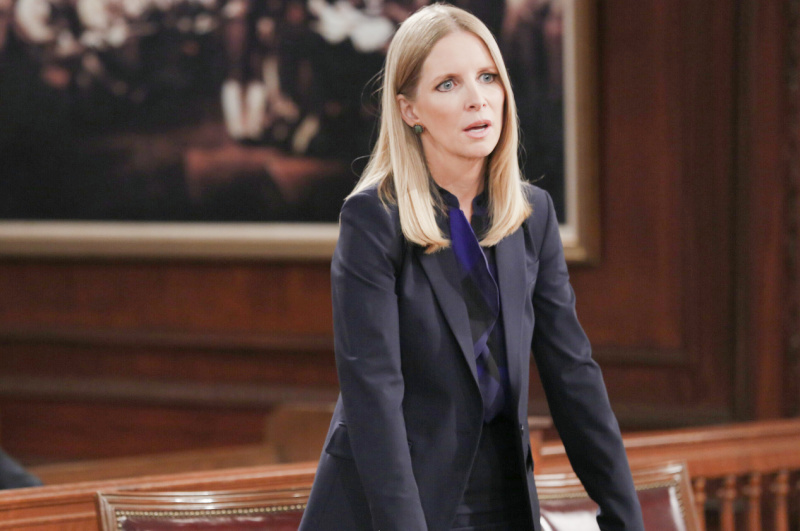 In Thursday's episode, Christine and Phyllis will go head-to-head. Once Christine learns that Phyllis made bail, she might issue a warning. Christine might caution Phyllis not to get too comfortable being outside of a jail cell.
Y&R Spoilers: Billy Abbott Covers
Recently, Billy argued with Ashley about Jack. At the time, Billy made it clear that he was Team Jack "all the way." However, that loyalty will be tested on Thursday, July 20.
It is teased that Jack will get involved in a situation that requires Billy to cover for him. Maybe Jack's next move involves Billy deceiving his family members. It sounds like Billy does cover, but it could have him questioning Jack's judgment.
Tucker McCall Brainstorms
The Young and the Restless spoilers for Thursday, July 20 reveal that Tucker and Ashley will strategize. For months, Ashley has been on a quest to get rid of Diane Jenkins (Susan Walters). Now that Jack knows about Ashley's devious business scheme, it is time for the next step.
The Young and the Restless Spoilers: Thursday, July 20
The target right now is especially Diane. Tucker and Ashely want to use Phyllis to push Diane over the edge. However, the powers that be teased that Phyllis might have some unexpected revelations during this storyline.
Fans might also see Phyllis trying to explain to Summer Newman-Abbott (Allison Lanier). While Summer has never trusted Diane, the two did seem to bond while admitting their "old selves."
If Phyllis pushes Diane over the edge, Summer could have an unexpected reaction. Not only will Diane and Summer's dynamic soften, but Harrison Locke (Kellen Enriquez) could become a concern.
After all, Diane and Harrison have gotten extremely close. So, Diane being pushed over the edge could have a devastating effect on the little boy, who has already lost so many loved ones already.
Share your thoughts in the comment section below. Remember to keep watching the soap on CBS or Paramount+ to find out what happens next.
Be sure to catch up on everything happening with Y&R right now. Come back often for The Young and the Restless spoilers, news, and updates.