The Young and the Restless (YR) Spoilers: Arbitration Best Option For Victor and Nick – Michael's Compromise Offer Smart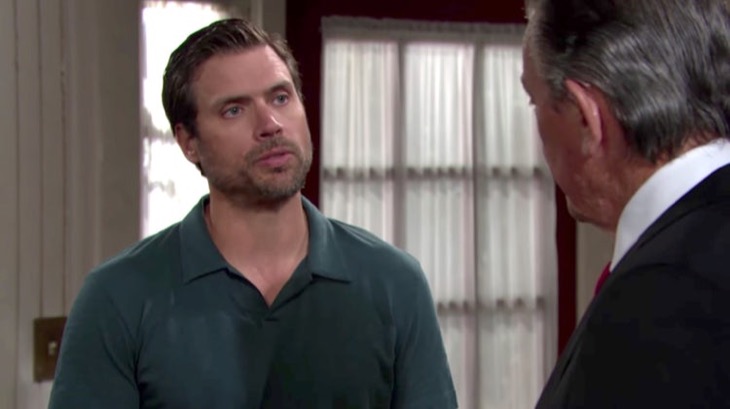 Nick (Joshua Morrow) doesn't want to lose Christian (Jude and Ozzy McGuigen) on 'The Young and the Restless'. He also doesn't want Sharon (Sharon Case) to temporarily leave him and his son in order to play a legal angle. Both points make Michael's (Christian Le Blanc) smart arbitration offer palatable.
Victor has a right to seen his grandson. The boy is actually, or apparently, Adam's (Justin Hartley) son. The word apparently was used because all soap fans know everyone's paternity and maybe even maternity is fluid in the daytime world.
If Nick would not be so hot-headed and stubborn he would realize that allowing his dad to see Christian isn't all bad. Yes, Victor (Eric Braeden) has a manipulative history. But considering the paternity test that Nick had conducted, which confirmed that Adam was Christian's father, choosing to try and cut the 'Moustache' off was a tactical mistake and wasn't good sense.
Arbitration should avoid dragging various personal histories through the mud. It would also enable Sharon to remain in her home at the cottage, or Nick to not have to move out. Establishing a 'Shick' split ruse could easily result in this legal issue being revisited if Sharon and Nick repaired after a judge rules.
Michael is representing Victor, but also values Nick's position. That's why Mr. Baldwin made a personal appeal, without his client's knowledge, before courtroom proceedings were spurned.
On a separate note, it was nice to see Le Blanc again. Michael has only made sporadic appearances within the last year, which is typical of soaps who shelve some of their regular characters depending upon which storylines are being told.
Hopefully, Michael, Victor, Nick, and Brittany (Lauren Woodland) are able to reach an amicable agreement through whatever retired judge presides at the upcoming arbitration hearing. The best outcome would have Nick retain custody over Christian, while also establishing full visiting rights for Victor.
The dysfunctional Newman family needs to pay attorneys and rely on judges to solve problems that shouldn't exist. The contingent's problems weren't caused by the money or resulting power it has. Instead, these messy personal issues often relate to the existing personalities who are unwilling to compromise. Thus arbitration makes sense.
Soap Opera Spy is a leading source for everything linked to 'The Young and the Restless'.
As always, more detailed spoilers and a full collection of pictures for the week in question will appear here on Celebrating The Soaps, when there will be more clues and hints over exactly what's going on.
The Young & The Restless airs weekdays on the CBS network.
---
Read more news, spoilers, and gossip on our The Young & The Restless homepage
Want up-to-the-minute soaps news, spoilers, and gossip on your social feeds? Just hit 'Like' on our  Facebook page.