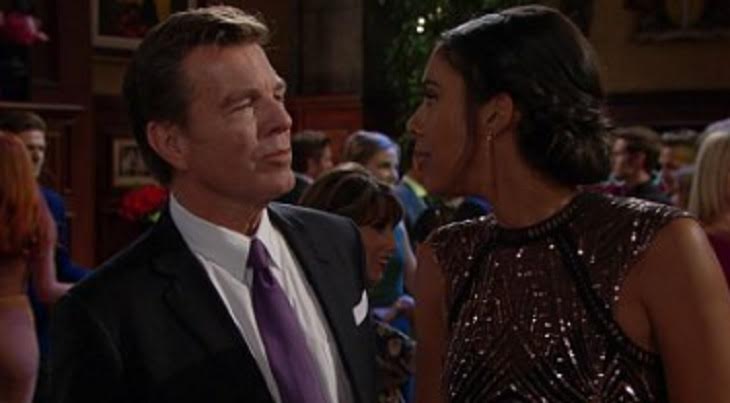 Jack (Peter Bergman) had enough of the family business earlier this year on 'The Young and the Restless'. So much so, that he left the Jabot Chief Executive Officer's chair due to his since resolved paternity issue. Again putting business beneath pleasure, Jack is risking his heart this time around.
Kerry (Alice Hunter) is the newbie in Genoa City. She was recruited thrice, as Jack and Billy (Jason Thompson) swung and missed because Phyllis (Gina Tognoni) had a personal connection and was able to make the right pitch. Said fastball also secured the Jabot CEO slot for the revived 'Red', who is Kerry's boss.
It's never easy for any available lady to turn down the famous Jack Abbott. He's suave, smart, and sometimes sporting an agenda that also includes whoever his significant other may be, or become. Kerry senses this and has surely been clued in by Phyllis, who was married to Jack no less.
After securing a mega job at a major cosmetics company, why risk it all so soon based purely on the possibility that a boyfriend could be gained? This isn't a high school decision, where snarky looks in the cafeteria and a vengeful word campaign in the halls would be the extent of consequences Kerry could suffer.
We love to see Devon smiling again. RT if you do too! #YR pic.twitter.com/loKQU53cx9

— Young and Restless (@YandR_CBS) November 28, 2018
No, Miss Johnson could lose focus at work, where Phyllis has tasked her with creating trend worthy products that must be on the shelves by spring. Competing with Ashley's (Eileen Davidson) patented 'My Beauty' items also stands as one of the greatest challenges Jabot has faced in years.
Jack likely isn't conning Kerry. He's been open about wanting to keep tabs on her efforts. But he's also been honest about liking her. Reaction shot moments, where the great Bergman is shown alone, serve to underscore that Jack is mostly seeking a new love.
As for Kerry, one can't blame her for being cautious. Hopefully both parties bond, as their couple potential projects nicely. If both make progress in business as well, then so be it. But that would be a byproduct.
Celebrating the Soaps is a leading source for everything linked to 'The Young and the Restless'.