Young And The Restless Spoilers: Could Conner Cause Issues For Chelsea & Billy's Romance?
Y&R spoilers imply Connor Newman (Judah Mackey) may continue to have conflicting emotions about his new baby sister. The young man recently had a meltdown while out with his mom Chelsea Lawson (Melissa Claire Egan), Billy Abbott, and half-brother Johnny Abbott (Paxton Mishkind) for dinner. Conner seems to spend most of his time with Chelsea, so could he create issues in her new romance with Billy?
The Young And The Restless Spoilers – Billy & Johnny Abbott Tried To Calm Conner Down
There's nothing worse than having someone tell you the things you don't want to hear when you're frustrated. This is what Connor is going through right now, but as he's a young child, his meltdowns will be worse than those of an adult. During a recent scene together, Billy and Johnny were trying to calm Conner down and offer the "pros" of being a big brother. This just caused the little boy's anger to increase.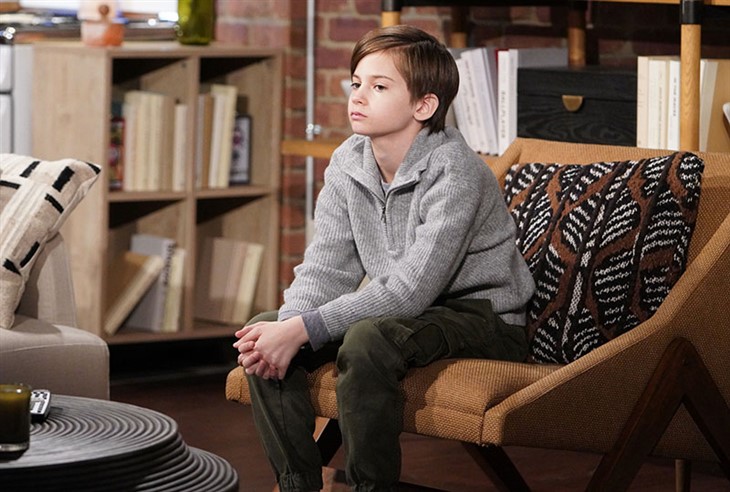 He's had a tremendous amount of information thrown at him in the past year. He not only found out he had a half-brother he thought was a cousin, but his mom also dealt with major mental health issues, and he's now digesting the idea of a new sister. Except to make matters worse, Sally Spectra (Courtney Hope) is the mom and she's dating his uncle Nick Newman (Josh Morrow), instead of his dad. It may be simply "too much" for Connor to take in.
Y&R Spoilers – Connor Abbott May Continue To Lash Out At Billy
Chelsea will stay focused on her son, as he is her number one priority. She'll worry about his mental health and how this "new baby sister" news is affecting him. With that being said, what if he takes his frustrations out on Billy (and possibly Johnny)? He's really angry with dad Adam Newman (Mark Grossman) but for some reason, he's lashing out at others. Could Connor's recent outbursts cause a strain on the Chilly romance, if they continue?
Could Connor create drama for Billy and Chelsea? Comment, below! Watch your favorite CBS soap daily to see how this storyline unfolds and check this site out daily for the latest Young and the Restless updates, news, and spoilers.