Young And The Restless Spoilers: Mishael Morgan Talks Amanda Sinclair's Return
Young and the Restless (Y&R) spoilers hint that the show's 50th-anniversary celebration will be a major event. Mishael Morgan is set to reprise her Amanda Sinclair role during the milestone shows, serving up some drama in the courtroom as the Chancellor-Winters legal case launches. But sounds like she may have some fun during her visit too. But, what are the actress's thoughts on her character's comeback to Genoa City?
The Young And The Restless Spoilers – Amanda Sinclair Won't Only Show Up At Court, But At GC's Bicentennial Gala, Too!
Y&R spoilers suggest that Sinclair won't only enjoy some courtroom drama, but she'll take some time to catch up with friends at the city's bicentennial event, as well. While talking recently with Soap Opera Digest (SOD), Morgan notes that she's both honored and flattered that the soap asked her back for the show's 50th birthday. In fact, Mishael notes that it was an immediate "yes" when producers approached her, revealing that unless Steven Spielberg called for a project, she was going to make the comeback happen.
Morgan states she was most excited to pick up where Amanda left off. After all, Sinclair split from the town pretty quickly after she caught her boyfriend Devon Hamilton (Bryton James) in a compromising position with "friend" and baby momma Abby Newman-Abbott (Melissa Ordway). Mishael is excited to come back and "play out" the situation further, in the aftermath of everything.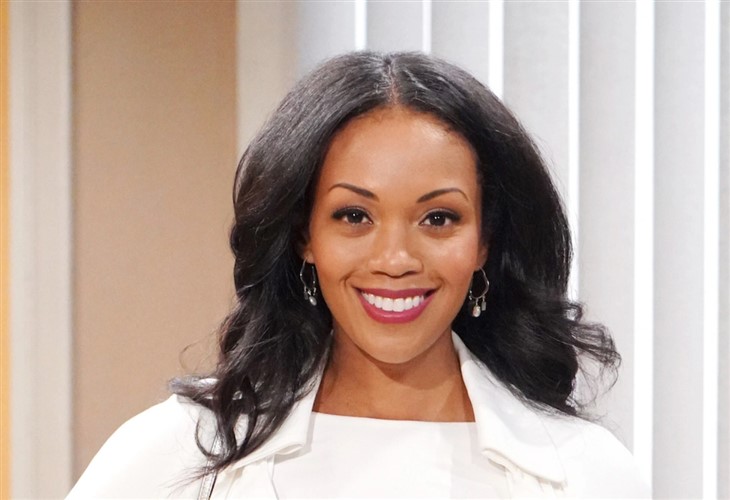 Although Morgan was happy that Amanda was able to dig into Devon and his infidelity a bit before she left, stating to SOD that it's "nice" we are living in a time when women can walk into their power, even when blindsided by something terrible. She adds, women are not "broken birds" anymore and we can fight and stand up for ourselves. However, Morgan does bring up the fact that Amanda has not fully healed from Devon's betrayal, so fans need to gear up for some confrontations between her and possibly Hamilton and Abby.
Y&R Spoilers – New Projects On The Horizon For Mishael Morgan
During her SOD chat, Morgan also relays that after filming her final scenes with the Y&R, she landed a three-show deal with Chicago Hope. The experience was "fun and exciting" for Morgan, and reminded her of her time in daytime drama, as the prime-time series goes "faster" than most shows in its genre, which is a lot like the pace soaps are at. While Chicago Hope wanted to keep Mishael around for a bit longer, Morgan was unavailable due to booking a movie deal. In fact, the action movie Sworn Justice will hit television screens during the 2023 holiday season, along with Vivica A. Fox, who plays Mishael's mom in the flick.
Interestingly enough, Fox played Stephanie Simmons on the Y&R in the mid-90s, and the two ladies were able to bond over working alongside the late and great Kristoff St. John (Neil Winters). The two reflected fondly over St. John, sharing stories and special moments with the legendary actor.
While her post-soap career is keeping her busy, Morgan does reveal that she's always happy to come back to Genoa City, and hopes to continue to do so in the future if projects allow it.
Are you excited about Amanda Sinclair's return? Don't forget to the Young and the Restless on CBS to see all the 50th-anniversary fun! Plus, visit HH for recent Y&R updates and spoilers.