Young and the Restless (YR) Spoilers: Who Is More Likely To Be Alive – J.T. or Adam Newman?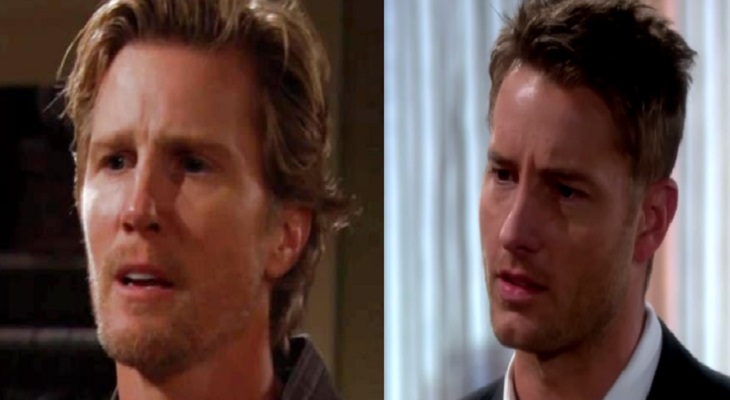 Two men are apparently dead on 'The Young and the Restless'. One supposedly died in September 2016, the other in April of last year. As soap operas allow unbelievable scenarios to come true, who, among J.T. Hellstrom (Thad Luckinbill) and Adam Newman (as last played by Justin Hartley) is more likely to be alive?
Let's go farther back in Genoa City history to the fateful day when Chloe (Elizabeth Hendrickson) believed that she literally blew Adam to bits inside the cabin. That woodsy structure was set on the outskirts of town. Adam was waiting for Nick (Joshua Morrow), Chelsea (Melissa Claire Egan), and Connor (Gunner and Ryder Gadbois) to pick him up.
Nick planned to drive the 'Chadam' family to a private air strip so they could leave Wisconsin, all of which was facilitated by Victor (Eric Braeden). But Chloe's thirst for revenge, based on Delia's (Sophie Pollono) accidental death, drove her to shoot Adam with a tranquilizer dart, handcuff him to a bed post, and then rig a gas fixture to explode.
The likelihood that anyone could live through that incineration is almost nil. So, Adam would have needed to somehow escape the cabin, or to have been helped out before the boom. He would then have been living somewhere for the past two-plus years, after which Chelsea and Connor may have met up with him when they left town in 2018.
As for J.T., most human beings who were conked on the back of the head as hard as Nikki (Melody Thomas Scott) hit him would surely have died on impact. However, if he survived that blow, the prospects of him then enduring being rolled into a carpet and thrown into a dug hole at Chancellor Park would be nearly, but not quite, zero.
In order for J.T. to still be alive, someone would have immediately dug him out of his unauthorized grave just after the 'Fearsome Foursome' departed the forced burial plot. This individual would have then revived the man who had enough oxygen within an air pocket below ground level to have survived. Unlike Adam, J.T. would be lurking in GC while currently exacting revenge against the Newman's.
Young and the Restless Spoilers: Eric Braeden Drops Mal Young Bomb, Reveals Adam Newman's Fate https://t.co/Vq2Ird9Hi8 pic.twitter.com/YKvlRv5IhN

— SOS/CTS/HH (@SoapOperaSpy) February 4, 2019
This site is a leading source of engaging information about 'The Young and the Restless'.
Read more Celebrating the Soaps news, spoilers, and gossip on our The Young & The Restless homepage