The Bold And The Beautiful Spoilers: Li Gets Upper Hand, Disconnects Sheila's Life Support?
The Bold and The Beautiful spoilers and rumors tease Li Finnegan (Naomi Matsuda) will finally get the upper hand over Sheila Carter (Kimberlin Brown). Li believes in karmic justice, what comes around goes around and she just gives it a little help by disconnecting Sheila's life support.
The Bold And The Beautiful Spoilers – She Nearly Killed My Son And Me
Li can have a vengeful side especially when she remembers that Sheila nearly killed John "Finn" Finnegan (Tanner Novlan) and her, when she ran her off a pier into the ocean.
She shot Steffy Forrester Finnegan (Jacqueline Macinnes Wood) at point blank range when she tried to call 911 to get help for Finn. If Li hadn't illegally taken her son from the hospital morgue after signing off on his death certificate, he would have died for real.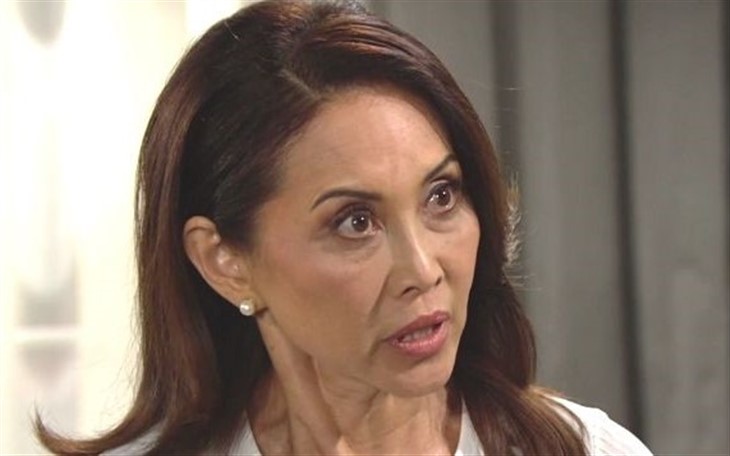 And now Sheila is the one on life support, why should Li feel sorry for her and let her live, Finn having honored his Hippocratic oath to do no harm? Would Sheila have let Li live had the situation been reversed-she's proud of Finn for his ethics, but Sheila needs to die!
B & B Spoilers – Sheila Carter Took Everything From Li Finnegan
To say Li is bitter over the things Sheila did over the years is the understatement of the century- Sheila took everything from Li. She took years of what Li believed was a happy marriage to Jack Finnegan (Ted King) only for it all to have been lies-the only good thing from it is Finn.
Li sometimes doesn't understand how two people so bad could make something so good-she'll never forgive Jack for his years-long deception, and Sheila-she can't. There must be something to that nature versus nurture argument child psychologists have fought over for years after all.
The Bold And The Beautiful Spoilers – Li Finnegan Can't Resist
Sheila in a coma-if she's not faking-won't give Li as much satisfaction as pulling her life support with her conscious, but she'll be putting her out of all their misery. She has to consider that a woman who could amputate her own toe wouldn't hesitate to endure the discomfort of a tube down her throat and a machine breathing for her.
Li is vindictive enough to wish she could see Sheila struggling for air-for life-like she knows her son must have, until he nearly bled out and lost consciousness.
Li has to rid the world and her family of this evil called Sheila before she comes to and she'll know right away if she's faking. If she sees her going for the switch she's sure to keep pretending, so she'll hang around to make sure she's really dead.
Be sure to catch up on everything happening with B & B right now. Come back here often for The Bold and The Beautiful spoilers, news, and updates.