B&B Recap And Spoilers Friday, June 9: Brooke's Plans For Rome, Liam Worries, Hope Fantasizes
The Bold And The Beautiful spoilers for Friday, June 9 reveal Brooke Logan (Katherine Kelly Lang) and Ridge Forrester (Thorsten Kaye) talking about the trip to Rome. Ridge says this is going to be strictly business. Thomas Forrester (Matthew Atkinson) changes the design and Hope Spencer (Annika Noelle) approves. Liam Spencer (Scott Clifton) tells Wyatt Spencer (Darin Brooks) that Hope and Thomas are going to Rome together.
The Bold And The Beautiful Spoilers – Thomas Forrester Offers Reassurance
Brooke asks Ridge what he is talking about. Ridge says Thomas has changed and Hope's line is in good hands. Thomas goes to Ridge and asks about getting two designs ready for the show. Ridge wants Thomas to slow down a little bit. Thomas understands why Ridge is concerned. Thomas assures Ridge that nothing is going on between him and Hope.
Ridge and Thomas agree that Hope falling for him is a bit ridiculous. Thomas is good with Brooke going to Rome. Brooke tells Thomas how good his new design is. Thomas wants Brooke to see how well he and Hope work together.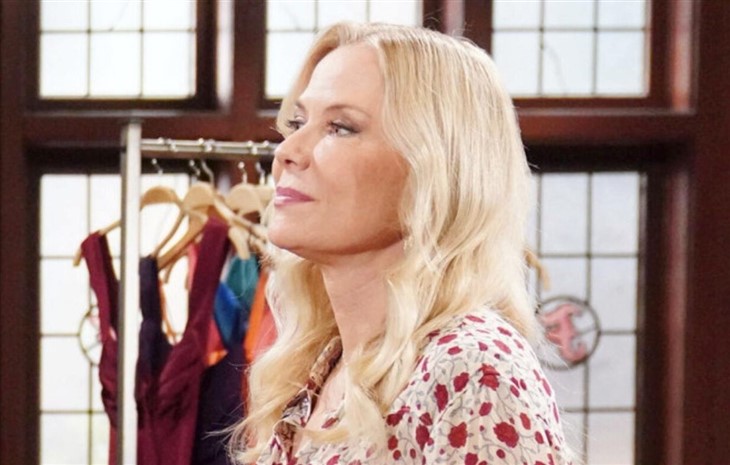 B&B Spoilers – Wyatt Spencer Offers Liam Spencer A New Option
The Bold And The Beautiful spoilers Wyatt says Hope and Thomas are going to the fashion show. Wyatt can't be surprised by Hope wanting Thomas to go along. Wyatt asks Liam if he told Hope to exclude Thomas from the trip. Wyatt points out that Thomas has exclusive rights to go. Liam gets more and more concerned. Liam didn't need Wyatt to remind him of this. Wyatt continues to upset Liam further. Wyatt suggests
Liam try to talk to Hope again. Wyatt suggests a video conference and Liam says Hope won't go for that. Wyatt asks if there isn't anything else Liam can do to convince Hope that Thomas doesn't need to go. Liam doesn't know if there is anything else he can do to stop Thomas from going.
The Bold And The Beautiful Spoilers – Brooke Logan Warns Hope Spencer
Hope wants to put a rush on this design. Brooke watches them from outside the door. Hope shows Brooke the new design. Brooke tells Hope that she wants to be at the show. Brooke thinks it will benefit Hope if she is there. Brooke offers to keep an eye on her and Thomas. Hope tells Brooke that she doesn't trust her. Brooke is concerned and doesn't want Hope to make any mistakes.
Brooke believes that Hope has growing feelings for Thomas. Hope asks Brooke if she knows how hurtful that is. Brooke thinks she cannot control herself around any man that isn't her husband. Brooke believes Thomas would be the man that could cause Hope to cross the line. Hope says this is a business trip and they work together. Hope plans to stay true to her wedding vows.
Brooke tells Hope that the draw between an artist and his inspiration is undeniable. They are going to the most romantic place in the world. Brooke doesn't know what is going to happen. Brooke wishes that Thomas didn't have to go. Hope says Thomas is the lead designer. Brooke says Thomas deserves his time in the spotlight too. Brooke says Hope needs to be careful.
Brooke has been where Hope is. Hope says she isn't Brooke. Hope dismisses Brooke who says she doesn't want Hope to make the same mistakes she has. Hope looks at a photo of her and Thomas. Hope thinks about time with Thomas. Hope begins to fantasize about being with Thomas.
Be sure to catch up on everything happening with B&B right now. Come back here often for The Bold And The Beautiful spoilers, news, and updates.