The Bold And The Beautiful Spoilers: Sheila Is No Fool – Bill Scrambles
The Bold and the Beautiful spoilers document that Sheila Carter (Kimberlin Brown) was initially overwhelmed. She seemed to have realized her dream. But soapy appearances were totally deceiving.
But Bill Spencer (Don Diamont) is plotting a nightmare for Sheila. He is attempting to bait her with a black diamond engagement ring. The intent is to elicit self-incrimination about the murders she committed.
Deacon Sharpe (Sean Kanan) remains Sheila's go-to guy because he does love her. But Deacon was not suspicious, which was somewhat surprising because he detests Dollar Bill.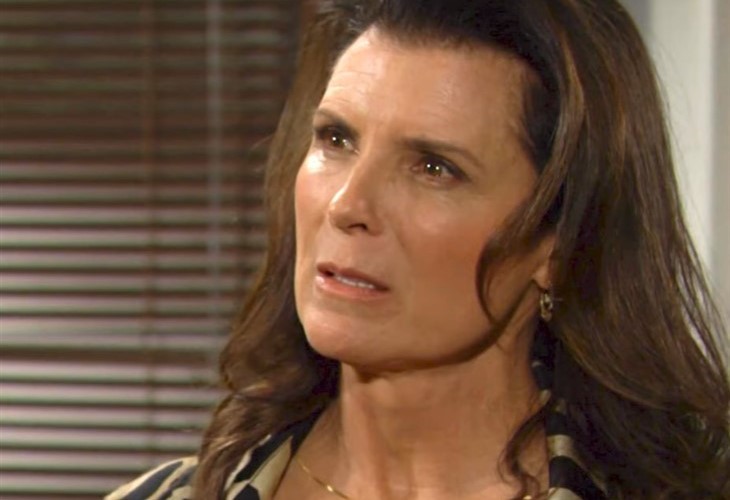 The Bold And The Beautiful Spoilers – Black Diamond Reflects Bill Spencer's Heart
The subject header is a play off the line Kanan offered. When seeing the ring, Deacon told Sheila it was black like Bill's heart.
Deacon did not realize he was onto something when assessing the glam bling Bill bought in haste for Sheila. She chose not to immediately accept Bill's offer of marriage, wanting to confide in Deacon.
Sheila's senses have been fogged by Bill's bluster these past weeks. But she retains the capacity to see somewhat through him.
B&B Spoilers – Too Much, Too Fast, Too Soon
Bill lured Sheila to the beach on the fateful night that was finally detailed. Viewers were given much needed plot details that informed them Bill and Sheila did not happen upon each other.
The audience was purposefully left in the dark because this daytime storyline needed to employ the art of deception. Like Sheila, viewers were led to believe Bill had fallen in love.
Sheila's tell to Deacon, about the quickly developing nature of her connection with Bill and his rushed marriage proposal, feels off because it is. The wink to the fans involves Sheila's instincts being the opening salvo in her turnaround.
The Bold And The Beautiful Spoilers – Sheila Carter Escapes Again?
Bill worked with the government to seemingly get Sheila's recent crimes squashed. But the audience learned that the hearing with the judge, that Bill watched through a surveillance screen, was part of the hoax. That element was contingent on the Finnegans' being scared off through blackmail threats issued by Bill and Sheila.
Sheila's hesitancy to become engaged appears to mean that she and Bill are not destined for sudden marriage. Bill is ratcheting up the plan because he is openly complaining about being unable to sustain his act. So, viewers anticipate an April event where Sheila does not play the fool on B&B.
This site is a leading source for everything linked to The Bold and the Beautiful. Check back regularly for B&B spoilers and news!