B&B Spoilers: Deacon Receives Second Scare – Bill And Thomas Represent Threats
The Bold and the Beautiful spoilers document that Deacon Sharpe (Sean Kanan) was stunned to hear the charged content of Liam Spencer (Scott Clifton) and Wyatt Spencer's (Darin Brooks) conversation. The conversation about Hope Spencer (Annika Noelle) later turned to Bill Spencer (Don Diamont).
Deacon does not want Thomas Forrester (Matthew Atkinson) around Hope. He also does not want Sheila Carter (Kimberlin Brown) to be with Bill.
That is what made Liam and Wyatt's conversations so troubling for Deacon. Viewers see trouble ahead for all connected characters this spring in Los Angeles, California.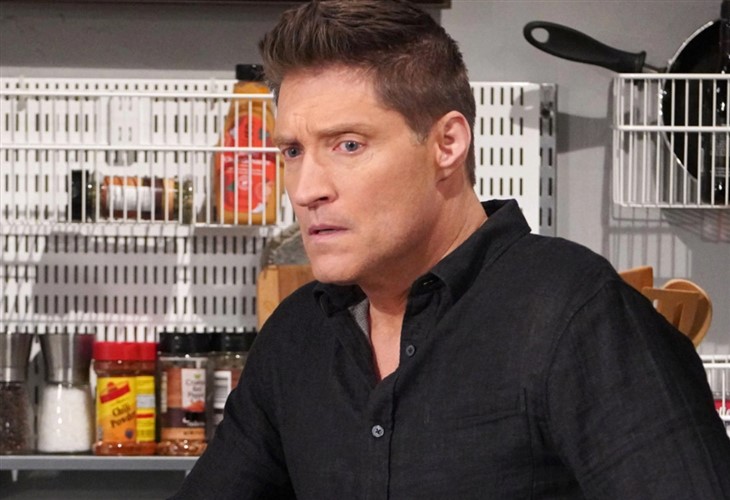 The Bold And The Beautiful Spoilers – Paternal Instincts Are Valued
Liam was leery of his father-in-law when he came to the cabin after being released from prison. Hope revealed she exchanged correspondence with him during the years he was in prison.
Deacon and Brooke Logan (Katherine Kelly Lang) are Hope's parents. So, no matter what Liam believed, the bond Noelle's character shares with her father mattered.
As time passed, Liam came to see Deacon changed. Liam and Wyatt's presence at the restaurant Deacon purchased, Il Giardino, and the lunch he provided for them, reinforced apparent progress. Of course, Deacon has not shared his ongoing relationship with Sheila with anyone.
B&B Spoilers – Recognized Betrayal Will Equal Reprisal
Bill has warned Sheila on more than one occasion. She got the message that her loyalty to him was vital to her continued presence in his life.
Of course, Sheila does not know what the audience has learned. Bill and Ridge have been working with the government in an attempt to gather evidence of Sheila's many crimes. The goal is to put her in jail for the rest of her soapy life.
Bill does not love Sheila. He loathes her, and she is starting to feel something is off. Diamont's character feels the same about Deacon. So, a classic confrontation projects dead ahead.
The Bold And The Beautiful Spoilers – And Then There Is Thomas Forrester
Thomas Forrester (Matthew Atkinson) is on his best behavior. He was patient this go-round. That resulted in his re-hire at Forrester Creations.
Deacon, like Liam, is deeply concerned about Hope's unexpected development. Both men have two problems to worry about, which is splitting their focus and will likely split their alliance.
Liam believes Deacon is not a threat. But Deacon's allegiance to Sheila means he is a source of information. Both men seem destined to be in the middle of unavoidable conflicts that will likely be fiercely resolved on B&B.
This site is a leading source for everything linked to The Bold and the Beautiful. Check back regularly for B&B spoilers and news!