The Bold And The Beautiful Spoilers: Bill Finding Out Sheila's Cheating The Least Of Deacon's Troubles-Charged As Accessory By FBI?
The Bold and The Beautiful spoilers and rumors tease Bill Spencer (Don Diamont) finding out Sheila Carter's (Kimberlin Brown) cheating could be the least of Deacon Sharpe's (Sean Kanan) troubles. Little does Deacon know Bill is working for the FBI with Ridge Forrester (Thorsten Kaye) and they and an FBI agent recorded Sheila talking to him on the phone.
The Bold And The Beautiful Spoilers – Charged As An Accessory?
Even though Sheila has not been committing any active crimes with Deacon, if they are recorded talking about their relationship either past or present, he could be charged as an accessory. At the very least he could be investigated, and if her escape charges were reinstituted he could be charged as harboring a felon. The whole clearing Sheila of her charges may not even be a true situation, it could be part of the FBI's sting that Bill and Ridge are involved in.
It was revealed that Sheila is being filmed and recorded where ever she is in Bill's house and could be when she goes away from the house as well. Sheila may not even know it – and any piece of jewelry Bill gave her could be bugged.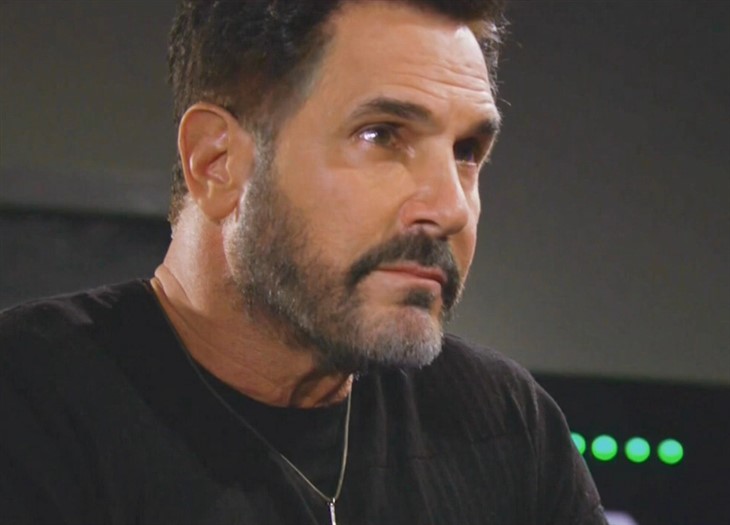 B & B Spoilers – Is Sheila Carter's Phone Bugged Too?
It's a distinct possibility that Sheila's phone is bugged too, in addition to the secret surveillance going on in Bill's house. The FBI and maybe Ridge all saw the times when Bill's sons, Wyatt and Liam Spencer (Darin Brooks, Scott Clifton) and Katie Logan (Heather Tom) came to talk sense into Bill. That must have been hard to not have let especially Katie into the loop, but perhaps after Sheila's arrested all can be revealed. But that's still going to put the screws to Deacon, if he and Sheila talk about their past together all those months at all. Deacon's definitely going to be in some big, big trouble, and lose all the ground he's gained if Sheila's charges haven't really been dropped.
The Bold And The Beautiful Spoilers – Sheila Carter's Trouble Could Become Deacon Sharpe's Trouble
Sheila's trouble could very well become Deacon's trouble and he could be arrested and put back in prison. That would be such a shame, since he finally found success in his life, and other than his sexual and emotional weakness for Sheila, he's come a long way. Unfortunately for Deacon also, there will likely be no way to avoid the truth of him and Sheila coming out to his daughter Hope Spencer (Annika Noelle).
If it were only Ridge and Bill watching Sheila on the phone calls to Deacon, perhaps they'd have mercy for Hope's sake and not reveal Sheila's lover. But since the FBI is involved, anyone Sheila connects with will come under suspicion-and Sheila' bad luck becomes Deacon's.
Be sure to catch up on everything happening with BOLD right now. Come back here often for The Bold and The Beautiful spoilers, news, and updates.