General Hospital Spoilers: Gladys Gets Her Scheming Paws Onto Dex's Evidence Against Sonny — and Forks It Over to Selina
General Hospital spoilers reveal the once strong relationship between Michael Corinthos (Chad Duell) and his father, Sonny Corinthos (Maurice Benard), has been shattered over the last year. Michael has taken it upon himself to seek information that would implicate his father in federal crimes, in hopes of seeing him punished for his actions. But a recent change in Michael's feelings toward Sonny has brought all of that to a halt. Willow Corinthos (Katelyn MacMullen) wants peace, and Michael is fixated on giving it to her. So he's not going to be happy when that evidence he collected falls into the wrong hands — Gladys Corbin's (Bonnie Burroughs), specifically.
General Hospital Spoilers — Michael Corinthos Isn't Sure
The reconciliation between Michael and Sonny may seem like a moment of relief for the two warring parties, but it's anything but that for Dex Heller (Evan Hofer). The young man took a huge risk by betraying Sonny and securing vital evidence against him to help Michael. However, Michael's sudden shift in stance has left Dex feeling bitter and disappointed. He put his life on the line to help Michael, but now it seems like his sacrifice was all for nothing.
Meanwhile, Willow's role in Michael's decision is not lost on anyone. She was partly responsible for Michael's change of heart, but she had one more request — for Michael to delete the video evidence that could potentially take down Sonny. However, that's a request that Michael hasn't honored as of yet, raising questions about what his true intentions are and how this delicate truce between father and son is going to play out.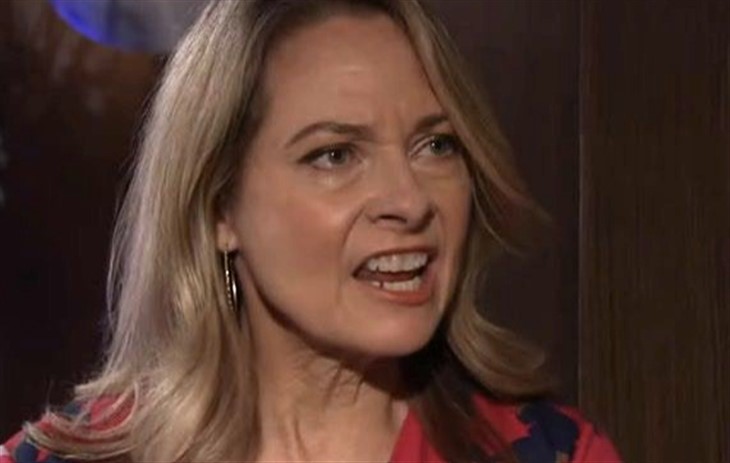 GH Spoilers – Tease Selina Wu Gets A Tip
Michael isn't sure this truce is going to work out with his father, and he put a lot of time and effort into collecting that evidence. So it isn't entirely unreasonable that he would hang onto it — just in case. In today's digital age, though, it only takes a few clicks for evidence to spread like wildfire online. Just ask Josslyn 'Joss' Jacks (Eden McCoy) and Cameron 'Cam' Webber (William Lipton). If someone manages to gain access to that video on Michael's phone, the world may come crashing down upon this entire family. So when Gladys and Sasha Gilmore Corbin (Sofia Mattson) swing by the hospital to visit Willow, and Gladys possibly overhears Michael and Dex having it out about said evidence, she just might go to great lengths to tip Selina Wu (Lydia Look) off and send her hunting for that file.
General Hospital Spoilers — Selina Wu Takes All
Gladys has a checkered past, and more recently she's been making mistake after mistake on Sasha's dime. It's nothing for someone like Selina to get ahold of Dex's or Michael's phone — or have them hacked — and find that video footage. Having all that she needs to scoop up Sonny's territory, Selina won't hesitate to act. Simultaneously, Gladys' debts will be cleared with the mobstress. As for Sonny, is this finally the end of his empire? Stay tuned for more GH news and spoilers just ahead.