The Bold And The Beautiful Spoilers: Finn Keeps Slipping – Self-Inflicted Family Destruction
The Bold and the Beautiful spoilers document that John Finn Finnegan (Tanner Novlan) needs time to digest all that happened. He regained a connection with his birth mother but is living alone because his wife took their children and moved out.
The bond with Sheila Carter (Kimberlin Brown) happened over a handful of days. He was in contact with her on three occasions, each more unbelievable than the last.
The break from Steffy Forrester Finnegan (Jacqueline MacInnes Wood) happened after she questioned Finn after Sheila was released from prison following the murder charge being thrown out by the judge.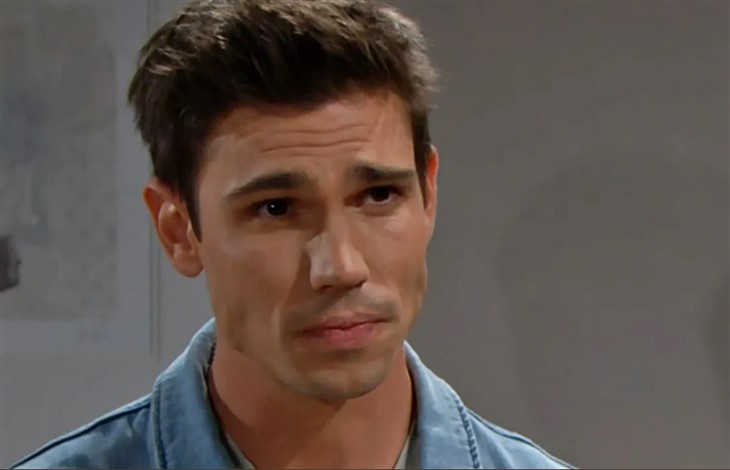 The Bold And The Beautiful Spoilers – Quick Break From Steffy Forrester Finnegan
Liam Spencer (Scott Clifton) later showed Steffy a video he took of Finn returning Sheila's hug in the courthouse hallway. That was followed by Kelly Spencer (Sophia Paras Mckinlay) saying that Finn's mom saved her from drowning.
Steffy ambushed Finn after he said it was Sheila, not Li Finnegan (Naomi Matsuda), who rescued Kelly while he was distracted by a work-related phone call. Finn was not aware of Liam's arguably sneaky behavior.
But Steffy believed she put Finn in his place when he tried to open her eyes to Liam's duplicitous actions. Finn's argument was a deflection, and Steffy's maternal response was deserved.
B&B Spoilers – Sheila Carter's Maternal Response Happened Too
Sheila did not run to the ocean and swim to save her grandson. No, B&B's greatest of all-time villain responded with a protective instinct because she also sees Kelly as part of her family.
Finn recognizes his biological mother's best side. His response, when calling her mom, in the aftermath of the rescue at the beach, was also revealing.
Steffy can not see at the moment that she is involved in a normal power struggle. Yes, the Sheila aspect makes this scenario anything but normal. However, many residents in this fictional version of Los Angeles, California, have also experienced the fight for emotional territory and control that exists between a spouse and in-law.
The Bold And The Beautiful Spoilers – John Finn Finnegan Needs To Regroup
Finn is a logical person based on his upbringing with Li and Jack Finnegan (Ted King). Having a doctor and an attorney as parents mean he was influenced by people who work through a process to seek answers to life's many challenges.
Novlan's character needs to regroup and then create a plan. That process became many times harder because Steffy, his son, and his stepdaughter were erased from his day-to-day life.
Sheila will look to fill the void or, as her detractors will claim, exploit the situation and manipulate Finn on B&B.
This site is a leading source for everything linked to The Bold and the Beautiful. Check back regularly for B&B spoilers and news!