The Bold And The Beautiful Spoilers: Hope Shows Up At Dad's Apartment, Gets A Massive Shock!
The Bold and the Beautiful (B&B) spoilers tease that Hope Logan (Annika Noelle) will get a surprise when she shows up unannounced at Deacon Sharpe's (Sean Kanan) apartment. It's been a while since she's seen her dad, so she stops by to chat.
Last week, Deacon told Sheila Carter (Kimberlin Brown) that he enjoys spending time with her but doesn't see how their relationship could work. If his daughter discovered their love affair, she would likely stop talking to him.
The Bold And The Beautiful Spoilers – Deacon Sarpe Has Worked Hard To Win Hope Logan's Trust.
She thinks her dad is doing well and is proud of the strides he has made to improve his life. It could rock their relationship if she knew that he was carrying on with this torrid love affair with Sheila.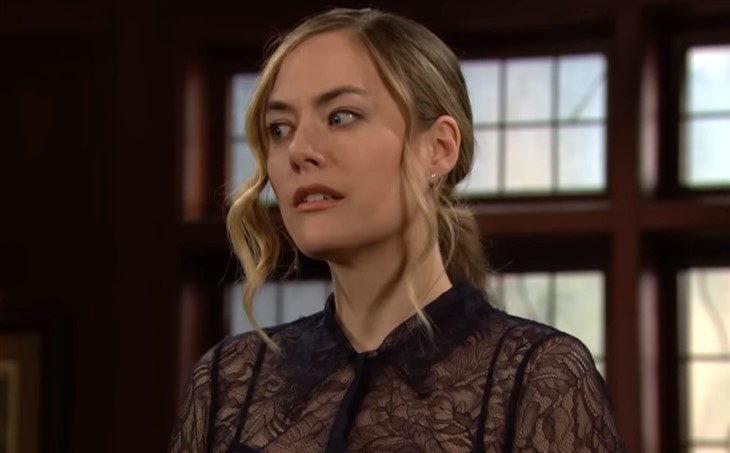 The Bold and the Beautiful spoilers say Hope knocks on Deacon's door, sending her dad and Sheila into a panic. He looks out the door and sees Hope at the door. He will likely force Sheila to go to the bathroom and hide.
Deacon may decide to end his relationship with Sheila. He isn't willing to damage his relationship with Hope for her. After another close call, he may do some soul-searching to determine if Sheila is worth all the trouble.
Ridge Forrester (Thorsten Kaye) suspects Deacon is in contact with Sheila. He has no idea that Sheila is shacking up with him. If Hope found out that Sheila was living with her dad, she would likely run to her mother, Brooke Logan (Katherine Kelly Lang), and spill the secret.
The B&B Spoilers – Hope Logan Won't See Sheila Carter In Her Dad's Apartment.
Hope will sense something is going on with her dad, but chalks it up to he's stressed about business.
Eventually, Deacon's secret will be exposed. Everyone will want to know why he's aligned himself with such a monster.
It will damage his relationship with Hope and Brooke. Deacon will lose everything if he doesn't end his relationship with Sheila. The question is, can he resist her and toss her out of his apartment?
Stick with Celebrating The Soaps for more sizzling The Bold and the Beautiful (B&B) spoilers, news, and casting updates!