The Bold And The Beautiful Spoilers: Katie's Grave Danger, Sheila Makes Bill Suffer? 
The Bold and the Beautiful spoilers reveal that everyone feels safer now that Sheila Carter (Kimberlin Brown) is behind bars. However, Sheila is determined to escape. If Sheila does slither out of prison, she could target the person Bill loves the most. That person is none other than Katie Logan (Heather Tom). Keep reading to find out what could happen next in the CBS soap opera.
The Bold And The Beautiful Spoilers – Bill Spencer's Romantic Trick
B&B spoilers reveal that everyone was stunned when Bill and Sheila had a romance. Katie begged Bill to reconsider and think of their son. However, Bill stayed in the controversial romance until Sheila confessed to murder. Once the FBI arrested Sheila, Katie learned about Bill's sacrifice.
Even though Katie still loves Bill, she won't risk her heart getting broken again. So, for now, Katie has decided to stay in a relationship with Carter Walton (Lawrence Saint-Victor). That isn't stopping Bill from trying to win Katie back, though.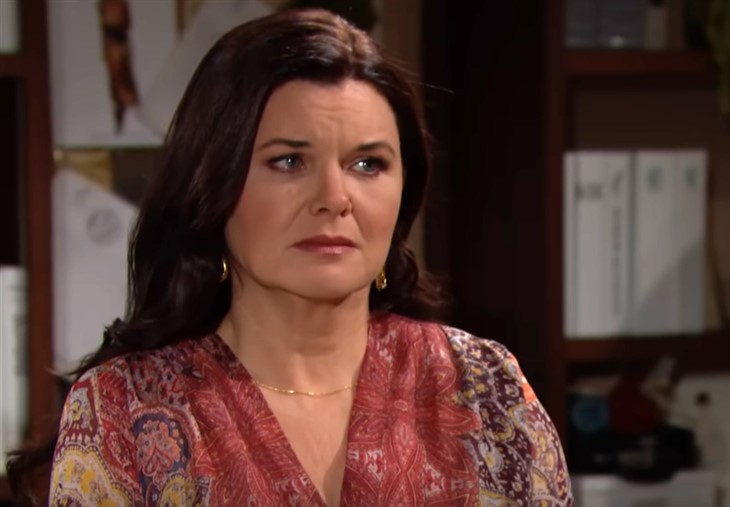 B&B Spoilers – John Finnegan's Rejection
While Bill is trying to woo Katie, Sheila tried to get help escaping prison. Jack Finnegan (Ted King) turned Sheila down. Then, Sheila requested a visit from her "doctor." When Finn showed up at the prison, Sheila was over the moon. However, Sheila's joy quickly turned to horror when Finn blasted his birth mother.
The Bold And The Beautiful Spoilers – Sheila Carter's Determination
The Bold and the Beautiful spoilers reveal that after Finn's rejection, Sheila pouted in her prison cell. Sheila quickly muttered that she had to get out of there. Plus, we have Mike Guthrie (Ken Hanes), who would do just about anything for Sheila. At the same time, the price for Mike's help is love.
Sheila might call Deacon Sharpe (Sean Kanan) for help. Of course, a sloppy and inattentive prison guard could be responsible for Sheila getting free.
B&B Spoilers – Saving Katie Logan
If Sheila escapes, she might not try to contact Finn again. Instead, Sheila might blame Bill for her failed relationship with Finn. Sheila might reason that if Bill hadn't conned her into a romance, then she wouldn't be behind bars. Sheila might also think that the reason Finn hates her is because of Bill, not due to her committing a crime.
Sheila might decide that death would be too quick for Bill. Sheila will want Bill to suffer and feel the agony that she feels. So, could Sheila escape and target Katie? If so, will Bill save the woman he loves from the monster he conned? Share your thoughts in the comment section below. Remember to keep watching the soap on CBS or Paramount+ to find out what happens next.
Be sure to catch up on everything happening with B&B right now. Come back often for The Bold and the Beautiful spoilers, news, and updates.