General Hospital Spoilers: Leaked Photo Shows Trouble Ahead In Port Charles For Curtis-Body By The Pool?
General Hospital spoilers and rumors tease according to now removed leaked behind the scenes photos, there could be trouble ahead in Port Charles for Curtis Ashford (Donnell Turner). They were taken during filming in the Metro Court rooftop pool set, and the monitor showed a closeup of a body by the pool that may have been Curtis!
General Hospital Spoilers – Several Were In The Scene
Several were in the scene including Zeke Robinson, (Gavin Houston) Portia Robinson, (Brook Kerr) Elizabeth Baldwin, (Rebecca Herbst) Austin Gatlin-Holt (Roger Howarth) and Jordan Ashford (Tanisha Harper). The leaker noted the body by the pool was shown in the monitor, and in front of Portia and Austin, who were possibly giving CPR. The leaker also noted that may have been Curtis because Donnell Turner filmed with a stunt coordinator, and everyone was in regular clothes.
It can be assumed that someone on the roof reported a body in the pool and the others may have been eating downstairs in the Metro Court restaurant. Austin, who has on a long-sleeved shirt, looked wet, like he'd dove into the pool to pull him out, and the rest followed.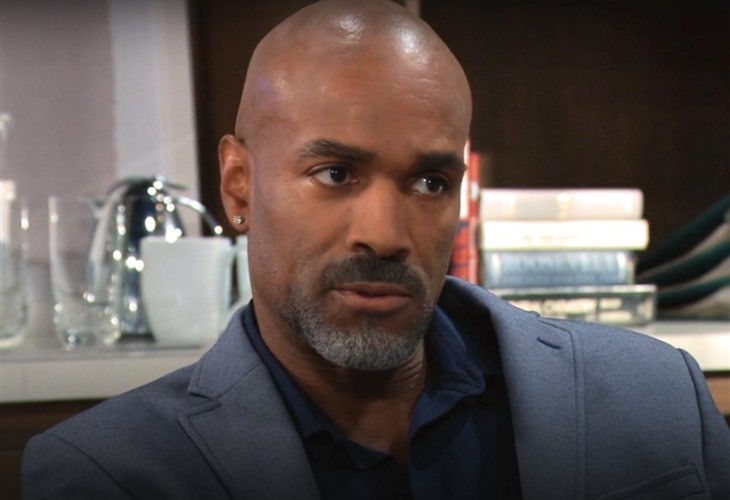 GH Spoilers – The Body Was Definitely Soaked And Clothed Fully
This definitely was not a pool party being filmed, since the body was definitely soaked and clothed fully; no one else was in swimwear either. It was a faraway shot but the players could be recognized easily, except Curtis, soaked and on the side of the pool unconscious. There didn't seem to be any blood, but it was difficult to tell because of distance-Austin was behind him and Portia was on one side and Elizabeth on Austin's left. Zeke was entering the area from the left, possibly to support his sister, Jordan was at the right side of the shot entering the scene by herself. There were no EMTs or PCPD personnel on the scene yet other than Jordan, so she and the rest from GH were probably all off duty.
General Hospital Spoilers – Scenes Should Air Mid-June To Late July
While scenes are not shot necessarily in order in storylines, it can be assumed this scene could air anywhere from mid-June to late July. The position that Austin was in indicated him bending over and possibly giving CPR with Portia coming to assist, and Elizabeth may have been assisting as well. It's too far ahead to know for sure that the body in the monitor was Curtis, but he wasn't anywhere else in the shot.
If he had jumped in to pull the body from the water he would have continued to assist. Could someone be plotting deadly trouble for Curtis-trying to stage it as a drowning or near drowning?
Be sure to catch up on everything happening with GH right now. Come back here often for General Hospital spoilers, news, and updates.