The Young And The Restless Spoilers: Christine And Chance Refuse To Accept Story – Phyllis' Drama Cascading
The Young and the Restless spoilers document that Christine Blair Williams (Lauralee Bell) was stunned after meeting with Jack Abbott (Peter Bergman) at his request. She found his story compelling but indigestible.
Christine told Chance Chancellor (Conner Floyd) what Jack relayed to her. Floyd's character appears to be using the Neil Winters' Jazz Lounge, at the Genoa City Athletic Club, as his base of operations because TPTB no longer shows the GC Police Department's station for reasons that remain dubious.
Chance joined Christine in finding Jack's tell about Phyllis Summers (Michelle Stafford) unbelievable. They chose to think Michael Baldwin (Christian Le Blanc) was driving a diversionary tactic. But they are wrong.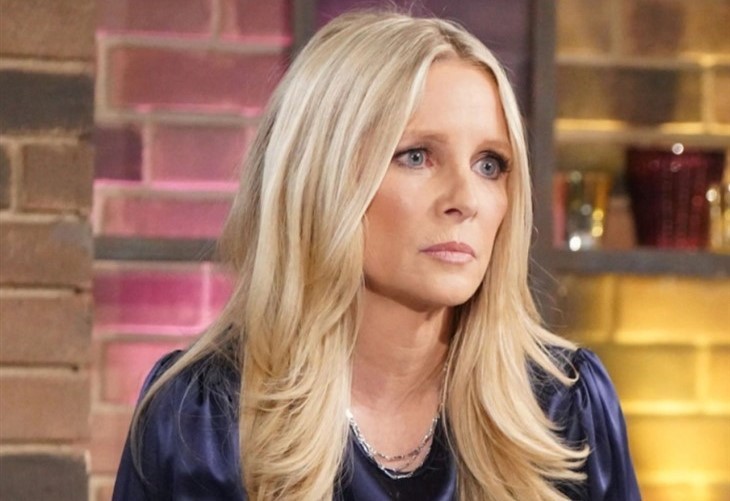 The Young And The Restless Spoilers – Jack Abbott Defends His Fiance
Jack has turned completely around. Months ago, he pledged his love to Phyllis, who was shocked by what she heard.
Phyllis was coming off her relationship with Nick Newman (Joshua Morrow), which went nowhere. She was not interested in reuniting with Jack at that point in the plot but changed her mind when Diane Jenkins (Susan Walters) reappeared out of the clear blue soapy sky.
Christine was asked to come to Society because Jack wanted to discuss a game-changing piece of news. She does not want to believe Phyllis is alive for a specific reason and told Jack Stafford's character would never leave her children to believe she was dead. She was wrong on that front.
Y&R Spoilers – Diane Jenkins' Knowledge Accelerates Dynamic
Keeping Diane in the dark was an understandable response. Michael was not trying to help his friend on the sly, as Diane theorized after Kyle Abbott (Michael Mealor) revealed the truth to her.
Expanding the circle of those in the know to Diane changes everything because she is the person who was targeted by Phyllis and Jeremy Stark (James Hyde). Diane will now do whatever is necessary to ensure that evidence is obtained that vindicates her.
Diane was not like Christine and Chance. She believes Phyllis framed her and remains in hiding as part of an ongoing plot.
The Young And The Restless Spoilers – Phyllis Summers' Time Is Running Out
Phyllis implored Summer Newman Abbott (Allison Lanier) not to tell anyone about the hoax. She also told her daughter how Jeremy died, reinforcing that exposing the truth could lead to life imprisonment.
Summer balked at keeping the news from Daniel Romalotti (Michael Graziadei). But Phyllis felt he should not be told either. Phyllis calculated Summer could keep the secret and that Daniel would not be able to conceal reality.
Phyllis told Summer more time would be available by dumping Jeremy's body in a remote lake out of town. But he floated into the vicinity of a local who spotted and reported the matter.
The increasing number of GC residents that know Phyllis is alive makes it likely she will come out of hiding or be captured on Y&R.
This site is a leading source for everything linked to The Young and the Restless. Check back regularly for Y&R spoilers and news!