The Bold And The Beautiful Spoilers Week Of July 31: Kelly's Fate, Li Wavers, Deacon's Moral Dilemma
The Bold and the Beautiful spoilers for the week of July 31 reveal that a life hangs in the balance, which must be Kelly Spencer (Sophia Paras McKinlay). Li Finnegan's (Naomi Matsuda) unwavering loyalty is at risk. Plus, Wyatt Spencer (Darin Brooks) is suspicious of Steffy Forrester Finnegan's (Jacqueline MacInnes Wood) reaction. Deacon Sharpe (Sean Kanan) will worry about Sheila Carter's (Kimberlin Brown) vision of the future.
The Bold And The Beautiful Spoilers – Kelly Spencer's Fate
B&B spoilers for the week of July 31 reveal that fans will see what happens following the cliffhanger. As fans recall, on Friday, July 28, Sheila visited the beach and spied on John "Finn" Finnegan (Tanner Novlan).
Finn was at the beach with his stepdaughter, Kelly. However, Finn received a call regarding a patient. Finn was inquiring about the patient earlier, so he took the call. Finn's back was only turned for a few moments, but as every parent knows, that is all it takes for something tragic to happen.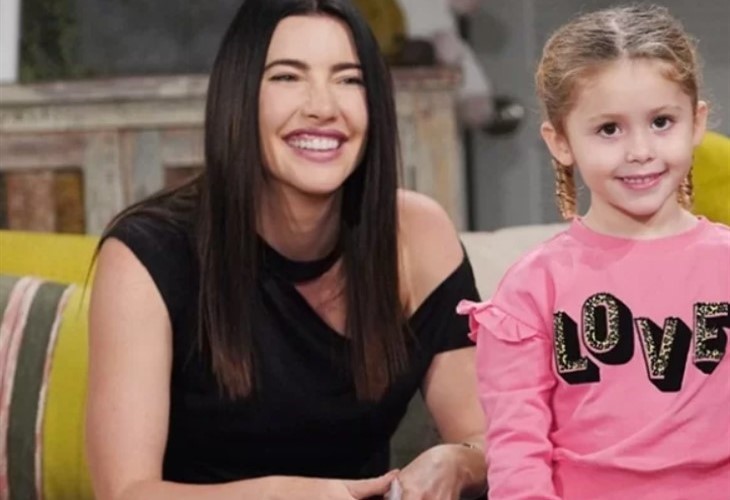 As Finn's back was turned, Kelly went toward the waves to collect more water for her sandcastle. However, Kelly got caught in a rip tide. Finn was still on his phone call and unaware. Meanwhile, Sheila ran to save Kelly. So, fans will see next week if Kelly survives and if this will be Sheila's redemption story.
B&B Spoilers – Li Finnegan Wavers
During the week of July 31, fans can expect Li's unwavering loyalty to be tested. This must be in regard to Kelly's tragic accident and Sheila's attempt to be a heroine. Plus, Li will be furious that Sheila hugged Finn, especially after everything that's happened.
Although Li has always made her positions clear and is fiercely loyal, it will be tested. It's not clear what exactly puts Li's loyalty in jeopardy, but it must have something to do with Sheila.
The Bold And The Beautiful Spoilers – Deacon Sharpe's Moral Dilemma
The Bold and the Beautiful spoilers for the week of July 31 reveal that Deacon will face a moral dilemma. It is teased that Sheila shares her vision of the future with Deacon. Even though Deacon cares and perhaps even loves Sheila, he will begin to panic. So, will Deacon be able to bring Sheila back down to Earth? Or could Deacon regret ever helping Sheila to begin with?
B&B Spoilers – Week of July 31
Fans can also expect the week of July 31 to feature Steffy delivering a stern warning to Finn. Wyatt questions Steffy's reaction, but to who or what? Plus, Finn's actions lead to a devastating outcome while Liam Spencer (Scott Clifton) refuses to back down.

Which storyline are you looking forward to seeing the most during the week of July 31? Share your thoughts in the comment section below. Remember to keep watching the soap on CBS or Paramount+ to find out what happens next.
Be sure to catch up on everything happening with B&B right now. Come back often for The Bold and the Beautiful spoilers, news, and updates.
For more about what's happening on your favorite soaps and more ways to connect with us, join the conversation on our YouTube Page or our Facebook Page, check out our Twitter feed, look for an update on our Instagram, follow us on Threads , Always stay up-to-date with us on Google News, or drop us an e-mail HERE! See you there!