Days Of Our Lives Spoilers: Abe's Fate Revealed!
Days of Our Lives spoilers tease that trouble may just be beginning for Abe Carver (James Reynolds). Twice over the past year of so, Abe has been put in danger by an enemy of his wife Paulina Price (Jackie Harry). TR Coates (William Chritiansen) hit Abe over the head when Abe tried to save Paulina from him. History repeated itself more recently when Colin Bedford (Jasper Newman) clobbered Abe with a rolling pin as part of his revenge against Paulina.
Days of Our Lives Spoilers – Abe Carver Nearly Died!
Days of Our Lives spoilers show Abe nearly died from both attacks although doctors have managed to save him both times. But that doesn't mean there won't be long-tern effects from Abe injuries, Spoilers say that Abe will soon wake up but he will mistake a medical someone on his care team for his wife Paulina.
Abe confusion will get even worse, and he will apparently wander away from the hospital in a dazed and confused state. Abe will likely return to his loved ones before anything else can happen. But his troubles are likely far from over!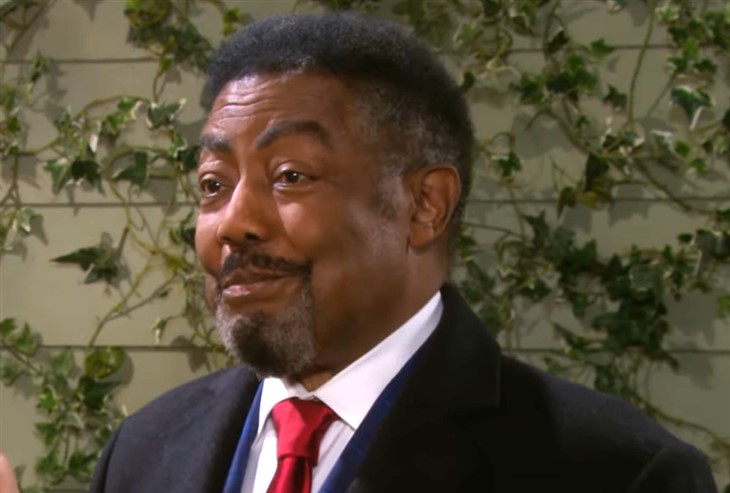 DOOL Spoilers – Leo Stark Strikes Again!
As viewers know, Leo Stark (Greg Rikaart) writes a gossip column for the Invader under the watchful eye of Gwen Rizczech (Emily O'Brien). Neither Leo nor Gwen are particularly fond of law enforcement in Salem, so this might be a chance for them to discredit Salem's finest starting with the mayor himself.
If Leo gets wind of Abe's confusion, it could lead to the public losing confidence in Abe's ability to run the city of Salem effectively as the Mayor.
Days of Our Lives Spoilers – Abe Carver Step Down As Mayor!
If Abe continues to have issues with confusion and disorientation, he may be forced to step down from his position as mayor. Melinda Trask (Tina Huang), who ran against Abe in the last election may demand a new vote and she could easily end up as the next mayor Salem.
Let's hope that Abe can put himself together in time to stop this from happening. But since Abe had a severe head injury, it seems likely that his medical issues may just be beginning.
What do you think?
Will Abe recover from yet another injury? Will Abe's confusion catch the eye of Leo? Will Abe be forced to step down as mayor? Anything can happen in Salem so stay tuned to Days of Our Lives streaming every weekday on Peacock. And don't forget to check back right here regularly for all your Days of Our Lives news, information and spoilers!