Days Of Our Lives Spoilers And Speculation: Holly Uses A Sami Brady Move, Is Tate Or Johnny Her Baby Daddy?
Days of our Lives (DOOL) spoilers tease that Holly Jonas (Ashley Puzemis) is grieving her mom Nicole Walker DiMera's (Arianne Zucker) baby situation. But, being a teen, and an impulsive one at that, she still has time to crush on Johnny DiMera (Carson Boatman). Is she about to do something that impacts Johnny and Tate Black (Jamie Martin Mann) and not in a good way?
Days Of Our Lives Spoilers – Holly Jonas' Crush
Holly came back to Salem recently with a case of SORAS, same as Tate. Fans surmised this dynamic would put the two of them together, but the outcome is slightly skewed—Tate digs Holly while she has eyes for Johnny.
DOOL Spoilers – Tate Black Was SORAS'd
Never mind that Holly and Johnny are technically step-siblings. Some could find that weird, but Holly knows what she wants! And Johnny being with Chanel Dupree (Raven Bowens) isn't an obstacle for Holly.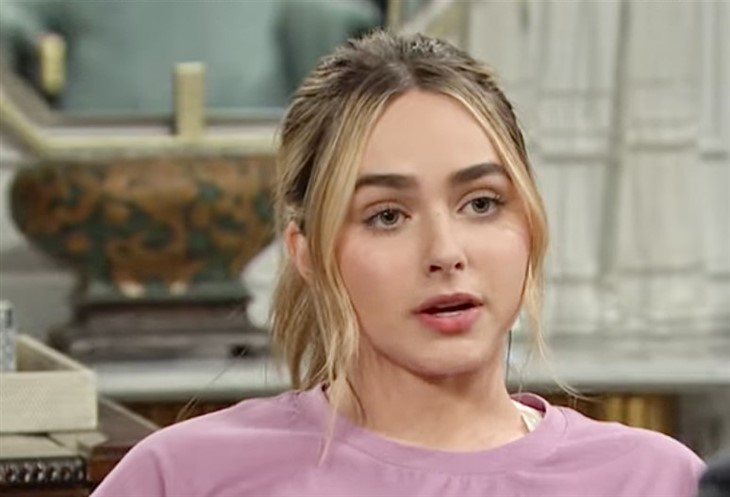 Days Of Our Lives Spoilers – Chanel Dupree And Johnny DiMera
Days of Our Lives spoilers indicate that Holly is focused on Nicole's horrible car accident and the "loss" of her baby.
As fans know, Nicole delivered her baby at the side of the road and Dimitri Von Leuschner (Peter Porte) raced the child off to the hospital.
Things got complicated and deceitful and right now Nicole and EJ DiMera (Dan Feuerriegel) believe that their baby didn't survive.
So for now Holly prioritizes being there for Nicole although at some point Nicole learns that her baby is alive.
DOOL Spoilers – Nicole Walker's Grief
And when that happy day comes, Holly will be free to continue to allow Johnny to live rent free in her head.
Fans are speculating that Holly may end up in a plot similar to one based on young Sami Brady (Alison Sweeney). Sami got pregnant as a teen with a "who's the daddy" storyline. Will Holly follow in these famous footsteps? Definitely maybe!
Soaps have had teen vixens resort to all sorts of deceits in order to get a guy in bed, with complications to follow. Tate is ready to sleep with Holly and perhaps Johnny is drugged or tricked somehow?
In the end Holly won't know who the father is, just as when Sami did not know if Lucas Horton (Bryan Dattilo) or Austin Reed (Austin Peck) was her baby daddy!
Tell us what you think about this soapy scenario DOOL fans!
Be sure to catch up on everything happening with DOOL right now. Come back here often for Days of our Lives spoilers, news, and updates.