Days Of Our Lives Spoilers: Leo's Redemption Mistake, Maggie's Reputation Targeted?
Days of Our Lives spoilers reveal that Alex Kiriakis (Robert Scott Wilson) confronted Leo Stark (Greg Rikaart) about the gossip column. Alex lost a promotion to Maggie Horton Kiriakis (Suzanne Rogers). Alex also isn't getting along working under Maggie, so his job is at risk as well. Leo seemed genuine in his apology but is still a manipulator and con artist at heart. So, could Alex and Leo strike a deal that airs all of Maggie's dirty laundry?
Days Of Our Lives Spoilers – Leo Stark's Scandalous Opportunity
DOOL spoilers reveal that Leo has always been a master manipulator and con artist. However, Leo also didn't have the greatest mother or upbringing. There are times when it seems that Leo really wants redemption, but is clueless to go about it. Of course, Leo also wants money, fame, power and prestige. So, those two don't exactly go together, which makes for an interesting character.
DOOL Spoilers – Alex Kiriakis' Rage
During a recent episode, Leo busted in as Alex Kiriakis was getting dressed after his drunken romp with Gwen Rizczech (Emily O'Brien). At that time, Alex threatened Leo over his gossip column. That resulted in Alex losing out on a promotion. Instead, Alex has to take orders from Maggie Horton Kiriakis (Suzanne Rogers). Despite the family relation, the two are not working well together.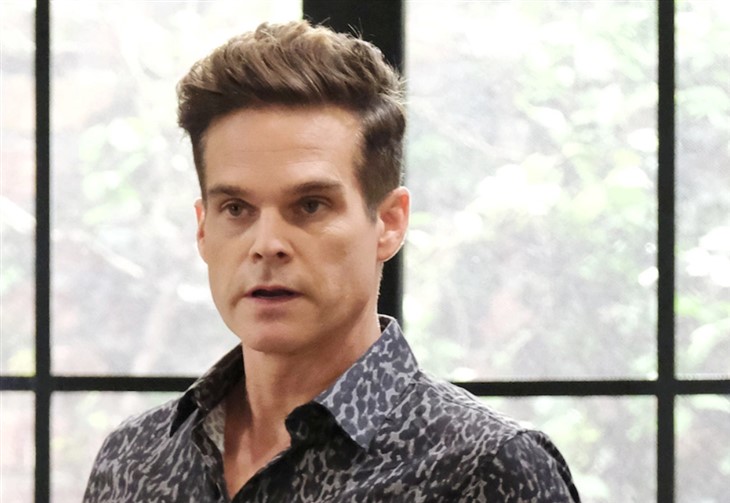 Days Of Our Lives Spoilers – Targeting Maggie Horton Kiriakis
Days of Our Lives spoilers reveal that Leo seemed genuine in his apology to Alex. Leo also seemed surprised that Victor chose Maggie over Alex. So, perhaps Leo will think about what he can do to make things right for Alex.
Considering it is Leo, it's not about guilt or doing the right thing. Leo wants some kind of respect and doesn't have it in Salem. So, Leo might think Alex's situation could provide an opportunity for both of them.
It's possible that Leo will decide redemption means publishing a scathing gossip column about Maggie. In Leo's mind, it would put a negative focus on Maggie. Leo might even wonder if it could help Alex get his job back. Of course, Leo wouldn't clear this with Alex, Gwen or anyone else. Leo would probably be pretty proud of his final product, too.
DOOL Spoilers – Gwen Rizczech Sued?
Of course, Leo will just make things worse for everyone. Not only will it make things worse for Alex, but Maggie could also target The Spectator. Gwen could find herself and the newspaper being sued.
This could complicate Gwen and Leo's relationship. Plus, Xander Cook (Paul Telfer) would take Maggie's side, so how would that impact the shared interest he has in the newspaper? Share your theory on what could happen with Leo's gossip column next. Remember to keep watching the soap on Peacock to find out what happens next.
Be sure to catch up on everything happening with DOOL right now. Come back often for Days of Our Lives spoilers, news, and updates.