Days Of Our Lives Spoilers: Loopy Edmund Crumb Aims To "Protect" Susan Banks By Holding Her Hostage
Days of Our Lives (DOOL) spoilers suggest some over-the-top plot twists on the horizon in Salem. Right now, fans are on the edge of their seats hoping that Ava Vitali (Tamara Braun) and Harris Michaels (Steve Burton) can find Susan Banks (Stacy Haiduk) alive.
Ms. Banks is using her telekinetic powers to help the duo, and it seems as if her disappearance has to do with her ex, Edmund Crumb (Adam Caine)
Days Of Our Lives Spoilers – Edmund Crumb's A Quirky Fellow
Days spoilers hint that fans should expect the unexpected in Salem. For viewers that don't recall, Edmund and Susan first met, fell in love, and got married in the late 1990s; he was a perfect match for her quirky personality.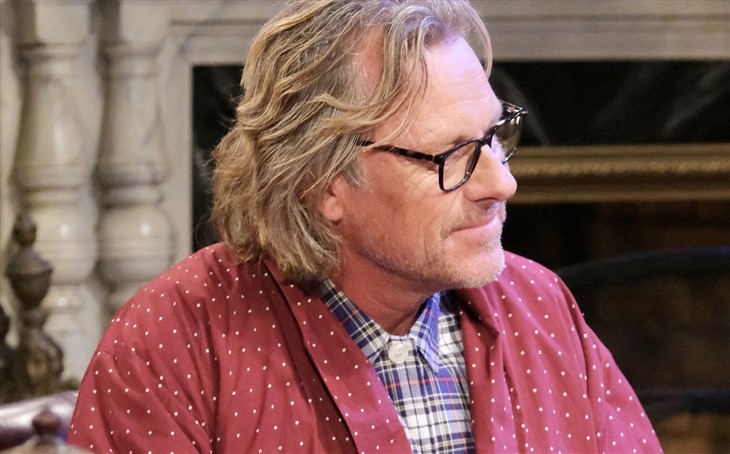 While the two were last "seen" together in 1998, Edmund's name was last mentioned (other than recently) in 2017, when it was revealed that he left Ms. Banks when her revenge against Sami Brady (Alison Sweeney) was so great.
She revived Will Horton (Chandler Massey), with the help of Dr. Rolf, of course, and had him believing he was EJ Dimera (Dan Feuerriegel) (whom she thought was dead at the time).
Salem's drama tore up their marriage, but it may have also caused Edmund to go from "quirky" to downright "loopy".
DOOL Spoilers – Edmund Crumb's Odd Protection
What if Edmund has gone a bit crazy since Susan left him? Mix that in with the potential that he figured out she was alive (without anyone else knowing) and this could be a recipe for disaster.
He may have "kidnapped" or conned her into coming with him, only to hold her hostage. Then again, maybe Crumb even found her injured somewhere after the car accident (right place, right time thing), nursed her back to health, and has been keeping her away from everyone, to protect her.
After all, Vitali kidnapped Banks to get back at EJ, and it always seems as if Susan is dealing with drama whenever she's in the little town.
Maybe Edmund wants her all to himself, so the two can enjoy good times together once again, like back in the day before she re-entered Salem storylines.
1-4 Recap
Is Edmund keeping Susan hostage to keep her safe? Share your thoughts below.
Watch the popular Peacock soap daily to see what happens next and visit this site regularly for the best Days of Our Lives updates, spoilers, and news.