Days Of Our Lives Spoilers: Megan's Master Plan-Eliminate All DiMeras One By One Until She's Running The Family And The Business?
Days of Our Lives spoilers and rumors tease that Megan DiMera's (Miranda Wilson) master plan might be to eliminate all DiMeras one by one. That will be until she's running the family and the business, and some, she'll manipulate to get them voted out, others, eliminate literally-meaning those who won't bend to her royal rule!
Days Of Our Lives Spoilers – Show No Mercy
There is at least one DiMera in particular that she absolutely loathes, and that is EJ DiMera (Dan Feurreriegel); pompous ass he is, she wishes he'd have stayed dead. But Kristen DiMera (Stacy Haiduk) told Megan that EJ was alive because their father told her to inject him with a serum to keep him alive.
Their father Stefano DiMera (Joseph Mascolo) died in the interim, but Megan feels keeping EJ alive was perhaps the one mistake Stefano made- she'd have talked him out of it.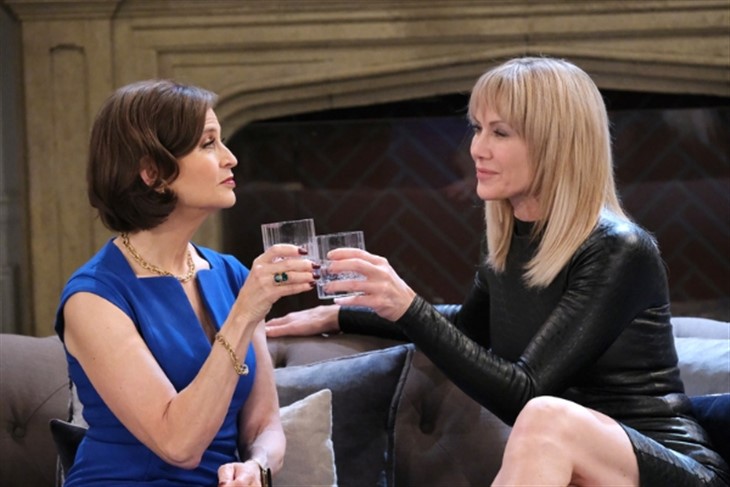 Chad DiMera (Billy Flynn) is another one she considers disloyal to their father, along with Tony DiMera (Thaao Penghlis). Dr. Wilhelm Rolf (Richard Wharton) told her they destroyed their father's essence after removing the brain chip containing his very soul from Steve Johnson (Stephen Nichols), burning it in an ashtray.
DOOL Spoilers – Three Down, Stefan DiMera And Kristen DiMera On Probation
Megan plots to get rid of those three first, keeping Stefan DiMera (Brandon Barash) and Kristen on probation. One thing EJ wanted to do that she does agree with is getting rid of the Shins, all of them, and making DiMera Enterprises a family business again. But that girlfriend of Stefan's simply has to go – police commissioner's little sister or not.
Megan knows a gold digger when she sees one, and no matter how much Stefan thinks he loves her, Megan knows he's thinking with the wrong head like all men.
Gabi wants him thinking she's going to get her hands on the DiMera fortune, and that is simply not happening if Megan has anything to do with it at all.
Days Of Our Lives – Can't Forget Her Son!
Megan can't forget her own son in all of this, and even though Dimitri Von Leuschner's (Peter Porte) name isn't DiMera, that can be easily changed when hers is.
She has all the papers to prove he is her son and he needs to be part of DiMera Enterprises as well. She wants Dimitri to have a large part in the family business, that someday he will inherit when she's gone; she knows she's not eternal although she'll be working on it.
Megan is plotting the exact path her purge of non-useful DiMeras will take-she knows Chad has children and so does EJ so she'll work on raising and training them next. She fully intends to be running the whole show, lock, stock and barrel in the next few months, so she'd better get started!
Be sure to catch up on everything happening with DOOL right now. Come back here often for Days Of Our Lives spoilers, news, and updates.