Days of Our Lives Spoilers Monday, February 4: Stefan Gets Shot, Ciara's Kidnapper Revealed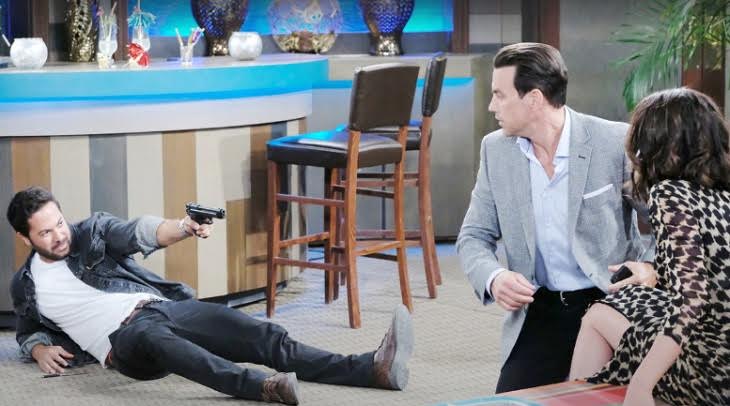 Days of Our Lives (DOOL) spoilers Monday, February 4, 2019, reveals Caira (Victoria Konefal) will see Jordan (Chrishell Stause) in the cabin where she is being held and beg her to let her go.
Days of Our Lives – Ciara Encounters Jordan
Ciara doesn't realize that Jordan, not Ben (Robert Scott Wilson) is the one holding her hostage. Ciara will eventually figure out who is holding her and try to get away, but will she be able to? Will Ben end up saving Ciara from his sister Jordan?
DOOL Spoilers – Hope Accuses Ben of Kidnapping
Days of Our Lives Hope (Kristian Alfonso) accusing Ben of kidnapping Ciara since she broke up with him. Ben will try to convince Hope that he had nothing to do with her kidnapping and hasn't see Ciara. Will Ben be able to convince Hope that Ciara is in trouble, but he's not the cause of it?
Does Ben know that Jordan has gone off the deep end and kidnapped Ciara herself? Could Ben end up being the only person who can save Ciara from his sister? Will Hope cause Ciara to be harmed by putting Ben in jail?
Clocking in another day as Salem University Hospital's Chief of Staff! #DAYS

📷: @marybeth_evans1 pic.twitter.com/OaJq9l1uxu

— Days of our Lives (@nbcdays) February 1, 2019
Days of Our Lives Spoilers – Claire Tries To Win Tripp Back
Days of Our Lives Claire is not willing to take no for an answer when it comes to Tripp and is determined to win him back. Claire will set up her plan to reunite with Tripp but is he willing to forgive and forget? Could Tripp decide to move on leaving Claire to fend for herself?
Will someone eventually happens to Claire that will make Tripp regret his decision? Tripp also has a connection with Haley, and the two of them have chemistry. Could Tripp and Haley start a romance of their own that ends up being the answer to her status issues?
Days of Our Lives – Stefan Risks His Life For Chloe
Days of Our Lives Stefan (Tyler Christopher) has been visiting with Chloe (Nadia Bjorlin) for some time, and they are getting along well. Chloe has opened an envelope with a bloody knife in it while in Stefan's company. Stefan will end up risking his life to save Chloe's.
Chloe's attacker is likely to be a member of Mateo's (Andoni Gracia) drug family determined to exact revenge. Chloe will eventually be under attack and Stefan will come to the rescue. Is this the beginning of a relationship between Chloe and Stefan? Will this attack be enough to make Chloe leave town again?
Read more Celebrating the Soaps news, spoilers, and gossip on our Days Of Our Lives homepage