Days of Our Lives Spoilers Tuesday, March 5: Haley Hides With Tripp, Chloe's Disturbing Discovery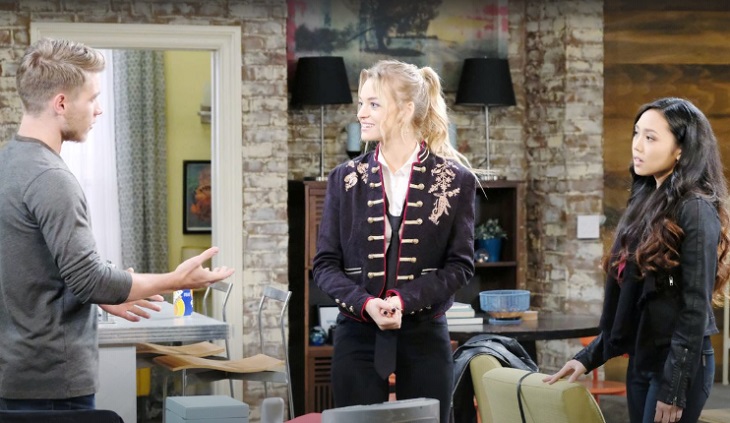 Days of Our Lives spoilers for Tuesday March 5 tease Rafe (Galen Gering) will confront Ted (Gilles Marini) about making a play for Hope (Kristian Alfonso).
Days of Our Lives Spoilers – Rafe Confronts Ted 
Ted has tried to come between Hope and Rafe continually since his return to Salem, and he certainly stepped up his game while Rafe was out of town helping Sami (Alison Sweeney). Could someone give Rafe some information about Ted's antics while he was out of town or did Rafe see the kiss at the hospital and not say anything about it until now?
Days of Our Lives Spoilers – Tripp Hides Haley At The Loft
Days of Our Lives Haley (Thia Megia) is in trouble and needs a friend. Haley can't trust J.J. (Casey Moss), so she turns to her only other friend, Tripp (Lucas Adams) for help. Tripp will take it upon himself to hide Haley in the loft to protect her from immigration officials. However, is Haley safe hiding out at the apartment or will Claire (Olivia Rose Keegan) turn Haley in to get her out of Tripp's life?
DOOL Spoilers – Rex Presses Eric 
Days of Our Lives Rex (Kyle Lowder) is desperate for Sarah (Linsey Godfrey) to accept his proposal and Rex believes Eric (Greg Vaughan) can make that happen. Rex will continue to press Eric to talk to Sarah and convince her to marry him. What Rex doesn't understand is Eric has feelings for Sarah as well.
Eric hasn't told Sarah how he feels, but she has told him about her reservations when it comes to Rex. Will Eric sacrifice his feelings to ensure his brother's happiness? Will Sarah admit that she has feelings for Eric that keeps her from accepting Rex's proposal? Will Rex realize that Sarah and Eric have feelings for each other?
Days of Our Lives Spoilers – Chloe Finds Evidence
Days of Our Lives Chloe (Nadia Bjorlin) will find evidence that someone is watching her. Chloe has moved in with Stefan (Tyler Christopher) for protection after Mateo's (Andoni Gracia) men came after her. Mateo's men made it plain that they would keep following Chloe and her children and fans have seen someone watching the house from outside since her move.
Will Chloe realize she needs more help than Stefan can give her? Will the police put Chloe and the kids in witness protection to keep them safe?
Read more Celebrating the Soaps news, spoilers, and gossip on our Days Of Our Lives homepage