General Hospital Coming And Goings: Scary Victor Cassadine Appears
General Hospital (GH) spoilers for the week of May 29, 2023 bring startling news from beyond the grave maybe proving that soap characters really do have nine lives. Fans will see the late, not so great Victor Cassadine (Charles Shaughnessy) this week as May Sweeps winds down.
General Hospital Spoilers -The week Of May 29, 2023 Brings News Of Victor Cassadine
Alas, Victor is still dead as a doornail but the reading of his will has come nigh. Which means his unloved ones will gather together to hear what the evil environmentalist has to say. Will the bad guy have the final word? He wreaked lots of havoc on earth before his inelegant demise so the peeps at his will reading will be on edge.
GH Spoilers – The week of May 29, 2023 Victor Cassadine Has The Last Word?
It's likely that Victor will feature in flashbacks of the people gathered at the event. Will there be any happy memories of Victor? Maybe the Sierra Club will send a representative.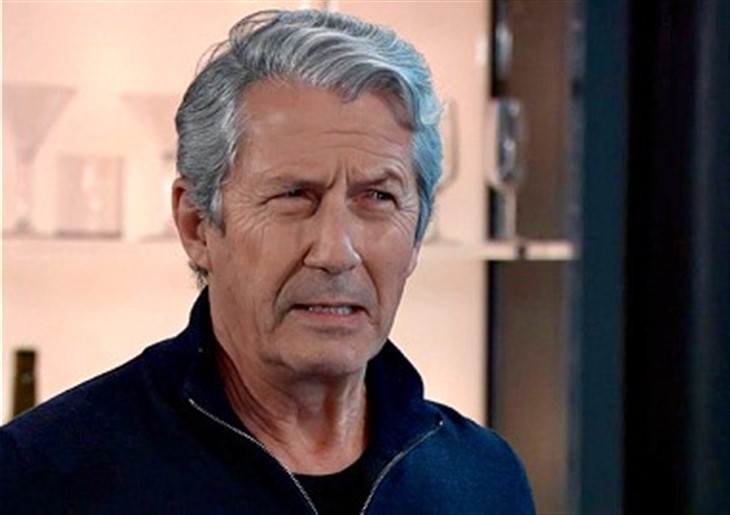 Wasn't it jarring to learn that Victor was the OG climate change guy?
General Hospital Spoilers – The week of May 29, 2023 Victor Cassadine Haunts Port Charles, New York
Before Victor went out in a blaze of glory, General Hospital spoilers revealed that for decades (decades!) he fostered feelings for Mother Earth, wishing for nothing more than to save her from the villainous polluters defiling her.
Some people dream of world domination so they can have all the money in the world, evil Victor merely wanted clean air.
General Hospital Spoilers – The Week Of May 29, 2023 What Happens In Port Charles, New York?
Aside from Victor's specter, a newly arrived Tracy Quartermaine (Jane Elliot) is providing villain vibes for the Q family. While living in Monica Quartermaine's (Leslie Charleson) house and blackmailing her granddaughter Brook Lynn Quartermaine (Amanda Setton) some fans can't help but wonder if close behind her is dead Luke Spencer (Anthony Geary).
Speaking of dead, Willow Tait (Katelyn MacMullen) received her bone marrow transplant and now her loved ones wait and watch hoping the red juice does the trick.
There you have it GH fans, the coming and going news for the week is slight, but now you're caught up on all the major plots for the Port Charles, New York based soap!
Be sure to catch up on everything happening with GH right now. Come back here often for General Hospital spoilers, news, and updates.