General Hospital Spoilers: An Anonymous Bidder Buys Wyndemere — And Ava Will Come To Regret Letting It Go
General Hospital spoilers claim Ava Jerome (Maura West) thought she wanted that creepy, damp castle on the island more than anything, but then reality set in. She killed her ex-husband in the living room — or at least, she believes she did. She was held at gunpoint by Ryan Chamberlain (Jon Lindstrom) in the same room. Her then-husband, Nikolas Cassadine (Adam Huss) betrayed her with Esme Prince (Avery Kristen Pohl) in that house.
It's not a place she has very fond memories and thus, she's eager to unload it. Trying to pass it off on Nina Reeves (Cynthia Watros) won't be necessary though when an anonymous bidder comes through that wants Ava out — now!
General Hospital Spoilers — Nikolas Cassadine Lost Sight Of What Mattered
When Nikolas first came back to Port Charles after being presumed dead for four years, he was anxious to reclaim Wyndemere from Valentin Cassadine (James Patrick Stuart).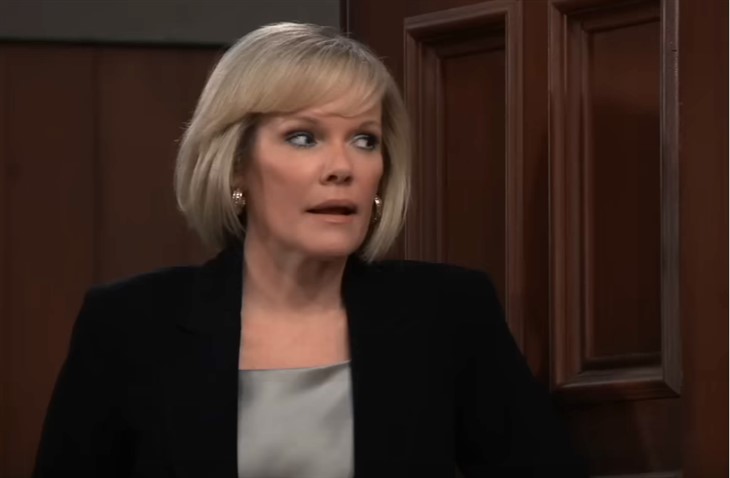 When he lost the place in his divorce to Ava, he was feeling particularly sentimental but also thought he owed her at least that. Besides, she had plenty to hold over his head.
It was only when he learned that she handed her ammunition over to Spencer Cassadine (Nicholas Alexander Chavez) that he came to regret giving up the Cassadine estate for her.
Moments later, he was being dragged out of the place and locked into a tack room in the stables. Is he coming home to roost?
GH Spoilers – Leak There Is Risk Involved
The PCPD has been looking for Nikolas ever since Esme showed up on the Haunted Star, drenched and pregnant.
Elizabeth Baldwin's (Rebecca Herbst) confession to helping him hold Esme hostage at Wyndemere set the wheels in motion to bring Nikolas in, but he was already long gone — abandoning his newest son in the process.
In other words, he's wanted by the authorities and they won't hesitate to arrest him if they get wind that he's hanging around.
Just because he buys the castle doesn't mean he has to occupy it, right? Maybe this is more about sticking it to Ava than moving back home.
READ THIS: Find out what happens next on General Hospital.
General Hospital Spoilers — The Scene Of The Crime
A good cleaning can erase all kinds of things, but if the anonymous bidder who steps forward asks for the contents of the home and pays enough for them, Ava might consider it a great fresh start.
She can wipe the slate clean and move on — and inland — with Avery Corinthos (Grace Scarola).
Of course, when she inks the escrow papers and packs their bags, she'll have no idea she's handing the crime scene in which she attacked her ex right back to him. How will he leverage it against her?
Stay tuned for more GH news and spoilers to find out.
For more about what's happening on your favorite soaps and more ways to connect with us, join the conversation on our Facebook Page, check out our Twitter feed, look for an update on our Instagram, follow us on Threads , Always stay up-to-date with us on Google News, or drop us an e-mail HERE! See you there!