General Hospital Spoilers: Nik's Sweet Revenge: Gaslighting Ava Into Shadybrook (Thinks He's A Ghost)
General Hospital spoilers report Nikolas Cassadine (Adam Huss) packed his bags and claimed to be headed to the nearest airport when Austin Gatlin Holt (Roger Howarth) came home to greet him. Their goodbye left Austin wondering if Nik was really man enough to walk away from Port Charles and all that he thought his ex-wife had coming to her.
Ava Jerome (Maura West) would seemingly get away with allegedly murdering him, and perhaps for Nikolas, it's penance enough that she believes she did. But if Nikolas isn't actually going to Europe as he claimed, then he may very well be headed to Spoon Island with more sinister plans in mind.
General Hospital Spoilers — Nikolas Cassadine Has No Plans To Announce He's Alive And Well
Nikolas isn't stupid. He's a wanted man and knows the PCPD would pounce on him if they knew he was alive and in their jurisdiction.
Staying out of dodge in another country seems like a reasonable move, but since when is Nikolas driven by reason over emotion?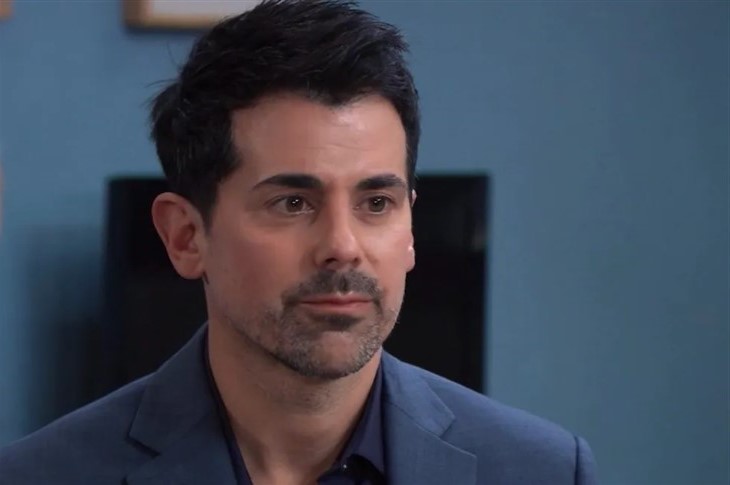 While he may have every intention of staying out of prison, that doesn't mean he doesn't want revenge just as much as he always has.
Still, there are ways of getting even with Ava and ensuring that she won't run to the police with news of his arrival.
GH Spoilers – Spill Ava Jerome Gets Spooked
Nikolas might already be lurking in the hidden tunnels in and around Spoon Island in hopes of making sure Ava feels unsettled soon enough.
Some fans seem certain that a ghost story lies ahead for us, and it sure would be perfect for the month of October. Is Nik's plan to reappear at his family estate acting as an apparition that haunts Ava?
Will he be able to drive her mad in the process and have her shipped off to Shadybrook — or will he just drive her out of the house? Perhaps that is his goal after all.
READ THIS: Find out what happens next on General Hospital.
General Hospital Spoilers — Home For Sale!
It makes sense that Nikolas wouldn't want Ava living out her days in his castle. No matter who has ever lived there, it's been home to him.
Will Ava think she's had one too many martinis, or might she actually think she's going out of her mind when she can smell the scent of her ex-husband's cologne and believes she's seen his belongings on the property. Can he pull it off?
Will we have a real ghost story akin to the vampire days of the Port Charles spinoff to carry us through the fall season? We can only hope!
Stay tuned for more GH news and spoilers to see how this plays out.
For more about what's happening on your favorite soaps and more ways to connect with us, join the conversation on our Facebook Page, check out our Twitter feed, look for an update on our Instagram, follow us on Threads , Always stay up-to-date with us on Google News, or drop us an e-mail HERE! See you there!