General Hospital Spoilers: Carly Pushes Olivia's Buttons About Ned & SEC Again, Wifey Spills Truth?
General Hospital (GH) spoilers indicate now that Ned Quartermaine (Wally Kurth) is back to being Ned Quartermaine, things could settle down in his world and get "back to normal".
Will this include people pushing his buttons about being the one to rat Carly Spencer (Laura Wright) and Drew Cain (Cameron Mathison) to SEC? Could Olivia Quartermaine (Lisa LoCicero) spill the truth in an effort to defend her hubby?
General Hospital Spoilers – Carly Spencer & Olivia Quartermaine's Friendship Has Been Strained
GH spoilers hint that Carly's friendship with Olivia was strained, pre-Eddie Maine days, right after the SEC scandal hit the fan.
Even before Ned convinced Olivia he wasn't behind it, Carly (being Carly) was completely flabbergasted that her bestie didn't drop her hubby because of his "business" dealings.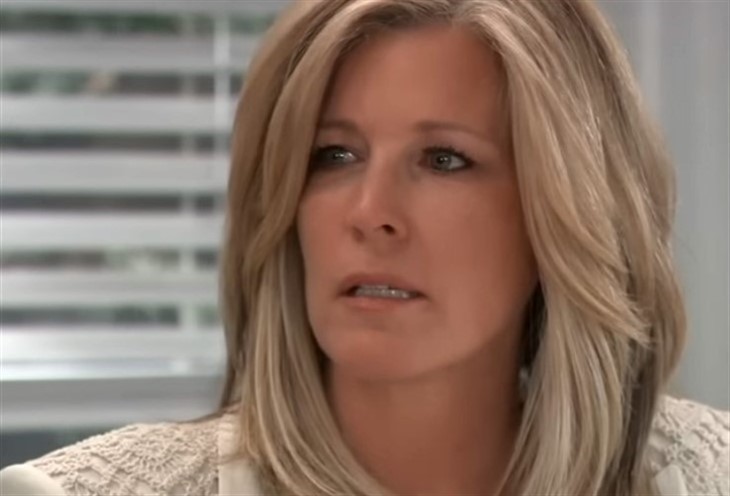 She resented Olivia's "disloyalty" as Ms. Q tried to remain impartial. Still, sometime after, Olivia fully began to believe Ned wasn't the one who went to the feds, and both ladies seemed to resolve the issue, but there was still lingering emotion there.
Carly may be back on the SEC bandwagon now that Ned has recovered from his head injury. While Drew sprung out of prison, he nearly lost his life in the slammer, and Darly may both be more determined than ever to make Ned pay. If Carly pushes Olivia's buttons, she may spill the truth.
GH Spoilers – Ned Quartermaine May Not Be Able To Keep Quiet
Then again, Ned's name is on the line, and someone may push his buttons, too. While he promised Olivia, he'd keep quiet to keep the peace if either Drew or Carly ambush him or things get heated, he may spill the beans out of sheer frustration.
The last thing he wants to do is cause drama; however, he may not be able to help himself.
At this point, with so many people in the know about Nina Reeves-Corinthos's (Cynthia Watros) SEC secret, it's bound to be revealed at the most inopportune moment.
If Carly or Drew goat either Ned or Olivia, will either of them (accidentally) spill the truth about SEC and Nina? Share your thoughts below.
Watch the popular ABC soap daily to see what happens next and visit this site regularly for the best General Hospital updates, spoilers, and news.